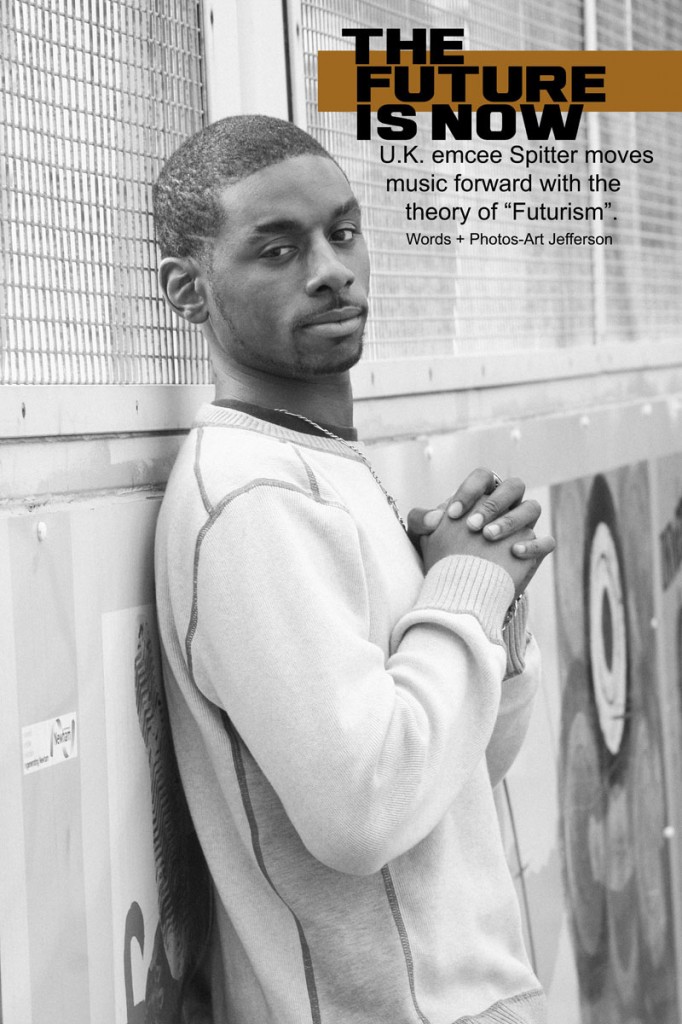 There is something special about the section of East London. At first glance, one may argue that assumption as miles of Council Estate Tower Blocks sporadically plague the streets from neighborhood to neighborhood. At one point, East London was considered one of the poorest areas of London. A mesh of foreign dialects mixed with a cockney accent, are the sounds of speech. Families of Jamaican, East Indian, Arabic, African and other European descent intertwine and populate the neighborhoods. With a seemingly festive mixture, along with the stats of East London comes the rising of youth knife crimes and the typical results of a borough that has not acquired all the benefits of the marks of 80's Thatcherism. This is the place where the sound of UK Grime emerged. Pioneered by Bow emcee Wiley, this music is an offspring of the UK Garage movement. While it may seem strange to call many of the grime emcees such as Dizzee Rascal, D Double E, Jammer, Kano and a slew of others old school veterans considering that most of them are still in their twenties, if not barely reaching thirty, the fact is they are veterans. While the average youth around the world in secondary school was focusing on having a good time in the playgrounds, many of the young grime emcees of East London were verbally swinging it out in lyrical clashes inside youth clubs and on pirate radio. Many of the young teenagers were absorbing their older brothers and sisters 'era of the Jungle scene but became immersed in the UK Garage sound. By the time the darker, sonically fierce and bass pounding sound of Grime sprouted, East London teens were fully embracing it. The emcee known as Spitter was there during the early days of Grime. His voice has a deep and commanding tone, so when he rhymes, one pays close attention. Having gone through the traditional stages of clashing, rapping on pirate radio and releasing two mix CDs and an EP., as well as making his rounds to on shows such as the Tim Westwood Show, 2010 is looking like it will be a massive one for Spitter.
Spitter grew up in the Stratford neighborhood of East London. Similar to kids growing up in other East London neighborhoods such as Bow, Leyton, Leytonstone, East Ham and more, he too found himself absorbed in the music of UK Garage back in the days. "I started spraying lyrics when I was in school, like year 9. I'm talking like 1990s. I started out in school spraying a couple little catchy rhymes then met up with a few friends that started doing it. I was doing old school garage to start with before all of this grime and everything. I was doing old school garage and a bit of drum and bass but mainly old school garage. Slowly but surely the music evolved into something else and I just followed along." While UK Garage began to crumble due to the bad publicity it began to receive after a number of killings outside of various London UKG clubs, this new grime sound began to rise. "We used to all be on radio stations like Deja Vu and Flava. Back in those days, I'll be honest with you…we used to spray bars that didn't mean anything. It just flowed and rhymed and it was on beat. Slowly it evolved and everyone started making sense after the music evolved into something else. Back in the days when it was old school garage, you could spray anything as long as it was on beat and rhymed. Now you can't just get away with saying anything. Everything has got to mean something and everything has to be a real word. Back in the day, it didn't have to be a real word. You could just make it up." After developing his style, Spitter began making his rounds throughout London and Essex and people took notice of his flow which sounded slightly different than the normal grime emcee. Odd style lyrics and bars helped him to stand out amongst elders who were still stuck in the old garage style flow or the younger emcees who were trying to rhyme at 100 miles per hour.
Having been involved in a few lyrical clashes in the past, those days almost seem to be a far distance as the focus of success takes obvious prevalence with Spitter. But as many grime emcees have learned, no matter how good or bad they are, eventually another emcee will "send" for them. Competition and emcee battles have been the standard in the Hip-Hop culture since its beginnings. But while, many of the modern Hip-Hop emcees have began to completely skip over the battle aspect and jump straight into making commercial releases with no worries, the UK grime emcees haven't been able to slip pass the aspect of clashing so easily. "If you're wack, someone is going to send for you. If you're wack and you've got a name and everything thinks "hold on he's big on the roads but he's rubbish", then someone will send for you and put a stop to it and make a name for themselves. But clashing terms, some of the clashes over here are arranged. You will obviously speak to each other and arrange it properly. But apart from that, there are clashes that just happen. You won't know who the person is and you think "rah I'm going to send for him" and you will send for him and he will reply back. But sometimes it can get out of hand. If you say something about him that's not true and everyone starts to think it's true and you've gone too far with what you said, it can lead to the streets and it can lead to reality. But clashing does keep you on your toes. It keeps you lyrically fit."
Spitter's first mixtape was titled "My name is Spitter" and while admitting to the extremely hard work that was put in to even release it, within months, it started selling off the shelves. "Independently it is very difficult. You have to think, "If I put all my money into this, am I going to get my money back?" I only released 500 to begin with but I sold all of them within the space of six months, and that was to start with, and then I pressed up another 500 and I got rid of them as well." It was that initial cd that generated a buzz for Spitter in London but as well as outside of the city in places such as the mid-lands and beyond. "The local support is good but the only thing about the support is that it can be hard selling your material. I find that I get more support from people buying my material out of London. I'm here in London, and I would say grime itself is London. Everyone else in London is around us. They see us all the time, come to the raves and see us. It's not a problem for them. They're always going to see us. Whereas other people in Brighton and all of that, they can't come from Brighton, all the way up here, have a good rave and then four o'clock in the morning expect to get home. They're the ones who will buy your material and listen to it and support it. The support could be better in London but it's hard because there are a lot of emcees in London. "But the apparent hard work began to pay off. He got top rated from his appearance with fellow emcee M.I.K. on the biggest urban show in the UK, the Tim Westwood Show. It has been a non-stop journey since. With a new cd ready to be released, the new material should appeal to the radio, the streets and the majors who have been recently grabbing up many UK artists.
It feels like decades apart since the times of the early grime days to now. Artists such as Tinchy Stryder and Chipmunk have become household names in the UK selling numbers of units. Dizzee Rascal remained a top seller since his "Boy In Da Corner" days and artists such as Skepta and Boy Better Know have made themselves known in many other countries outside of the UK. Spitter intends to follow that same path, similar to the changes that were witnessed since the inception of grime. The levels have risen and the rest of the world is now in tune to what is happening in London. With tracks such as "New Wave Grime", the rest of the world will now know Spitter.