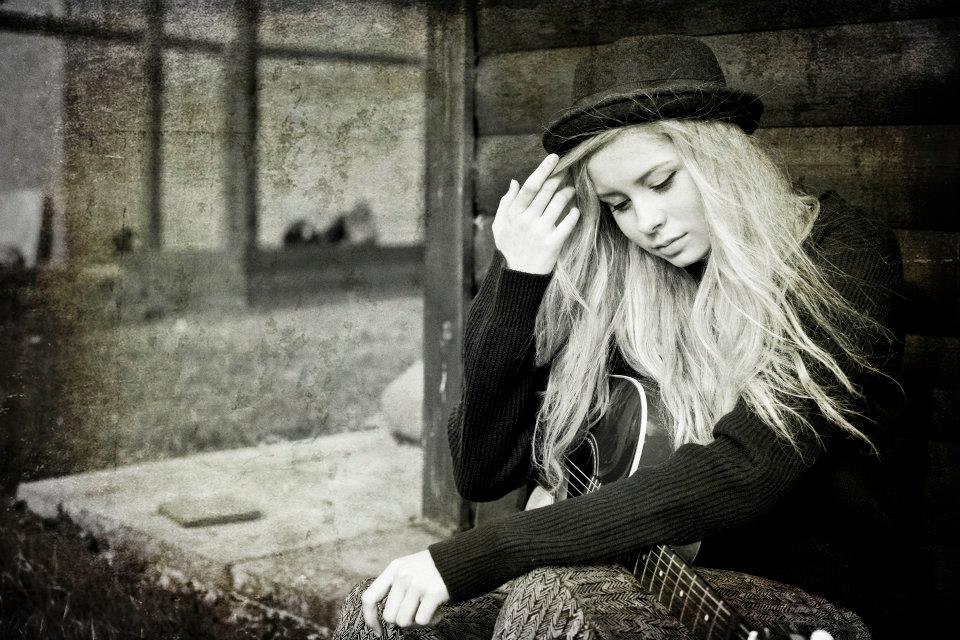 Words-Art Jefferson
Photography-Louise Munro
In this new age industry of music that seems to churn out artists by the boatloads daily, more times than not, the public gets exposed to those who will have a possible iTunes shelf life of a week and will then vanish into obscurity within the other countless amounts of artists who are after the same goal of listenership. Yet there are the rare breed of musicians who contains all of the right elements to make them everlasting superstars. Meet Nina Nesbitt, a singer, songwriter and guitarist whose extremely powerful voice and unquestionable talent has earned her a gigantic fan base. She has recently toured Europe with Ed Sheeran and is gearing up for more shows. The part Scottish, part Swedish teen sensation, who grew up in Edinburgh, released her debut EP "Live Take"
, a collection of acoustic songs, in 2011. Her latest recording "The Apple Tree" will be available April 23, 2012 worldwide.
AJ-You're 17 years old but it's apparent that music is what you were born to do. Around what age did you really know that music is what you wanted to fully focus on and also, when did you pick up your first guitar and learn to play?
NN-Music has always been a big part of my life, but I was very shy when I was younger and mainly wrote songs & sang at home only. Alongside constantly writing a lot of songs, I decided to finish my education first and left High School in summer 2011 after sitting my grades. This gave me the opportunity to focus 110% on a music career and begin taking part in live performances too.
My first guitar was a little pink guitar I bought from Argos for £20 about 2 years ago as I decided it would be a good idea to learn to play the guitar as it is an instrument that is easy to take with you anywhere you go.
AJ-What do your parents think about all of the things that are happening to their daughter right now? I'm sure it must be just as exciting for them.
NN-They are very proud of how my music career has developed so far and are incredibly supportive as they understand that music is my passion. It's really exciting times for all of us as a family at the moment, and I am very fortunate to have parents who take an interest in my career and don't tell me to "go and get a regular job", haha!
AJ- Your debut EP was titled "Live Take" which was more of an acoustic/folk sound. However, your new EP "The Apple Tree" is soon to be released. Tell me about the music direction with the new record because your first single "The Apple Tree" has more of an upbeat pop flair?
NN-Yes, the "Live Take" EP is a collection of demos I recorded some time ago with me singing with guitar only. I decided to release a few tracks from these demo sessions as fans were asking to hear more of my own music.
The next EP "The Apple Tree", out in April, will reveal my sound more. It will be a taste of things to come, as I will later this year begin work on my first album. The first single "The Apple Tree" is definitely much more upbeat. I feel it's a nice upbeat song to release this time a year as it does have a bit of a summer festival feel to it. The Apple Tree has been well received on tour around the UK and rest of Europe as part of my live set. The crowds love singing along to this upbeat track which is fantastic. This EP is my first produced collection of music to be released and there are a few upbeat tracks on this EP with a lot more instrumentation. I have brought in more piano and electric guitar along with some beats, but I also have some pretty acoustic piano ballads on there too.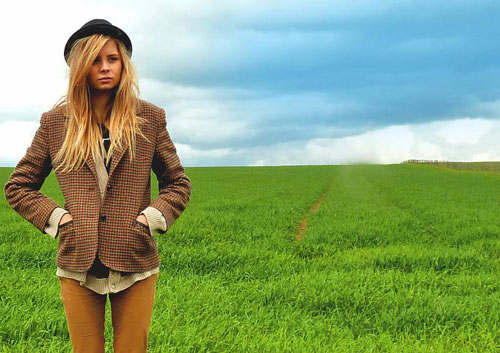 AJ-You've been touring with Example and Ed Sheeran. How has that experience been because you have literally travelled throughout Europe? What have been some of the highlights of the tour?
NN-Touring with Ed Sheeran & Passenger around Europe for 2 weeks was an amazing experience. I got to play alongside two very professional & experienced musicians and seen so many different countries. I also met so many nice people and new fans who were all lovely and very supportive of my music. Some of the highlights were finding fans all around Europe who knew of my music already. I loved hearing them sing along with me to my songs during the shows! I had such a great time.
AJ-The one thing that I must ask you about is the JME "Fuckries" cover that you did. Coming from Edinburgh, how strong is the grime scene up there and has anyone from the Boy Better Know camp heard the cover?
NN-This was quite an unusual cover for me to do, taking a bit of a risk as it's a style of music that is very different from mine. However I like a challenge and luckily I've had mostly positive feedback on that cover. I don't think there is a particular scene in Edinburgh, most people I know can appreciate lots of different genres. I just love the way all the words flow in the grime genre. Yeah, actually the man himself tweeted the video out about 3 times which was amazing of him to do, JME (BBK) seems a lovely guy.
AJ-Finally, with all of the shows that you have lined up, how do you possibly find time to record and what can your fans expect regarding your full length album?
NN-It's a fine balance between live shows, writing & recording but I make the most of any time I have between shows and also during travel. I often even use travelling time to write new material and when back home I record a lot of music in my little studio. I make sure all my work in main studios are planned ahead and booked in to my busy diary alongside all the other things. To be successful at anything in life I reckon you have to love what you're doing and be pretty disciplined. Music is truly my passion so it actually doesn't feel like work to me, I am very lucky to be doing something I love as a job.
Purchase Nina Nesbitt "Live Take EP"