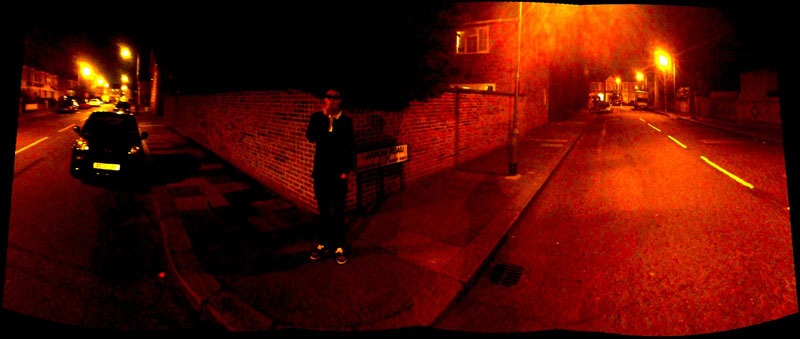 Words-Art Jefferson
Photography courtesy of Alex D££mnds/Switched On Records
London producer Alex D££mnds (pronounced Deamonds) may be new to the music scene but his track "Credentials" caught on like wild fire among some of the biggest DJs in the UK. Delving into deep house, Alex D££mnds has created a sound that is uniquely distinct and surpasses any particular label that can be attached to it. His "Credentials" EP is being released through Switched On Records on April 30, 2012. While many producers are scrambling to be rock stars of house music, Alex D££mnds' low key manner and unquestionable talent proves that cream always rises to the top.
AJ-You're relatively new on the scene. How long have you been producing and what brought you to the house side of things?
AD-I downloaded an illegal copy of fruity loops when I was about 15/16, fucked around on that until I got a job, then stopped for years. (I) got back into it probably a year and a half ago.
The reason I got into house has probably been explained better by hundreds of other DJ's & Producers, but anyway…I used to listen to garage, grime & Hip-Hop, then dubstep… dubstep became absolute dross around 2007/8, funky started to emerge, reminded me of tunes like 'Cure And The Cause' by Fish Go Deep and stuff that I had been listening to in East London clubs for years (didn't go to dubstep raves that much cause I wasn't on that trustafarian vibe). Delved deeper and deeper and just immersed myself in the genre, and yeah, this is where I am now init.
AJ-You're sound is described as deep house but in my opinion your music definitely mashes up a dance floor and it seems as if you've managed to create your own distinctive sound. Would you agree?
AD-I dunno. I don't feel like I have my own sound yet. I've been told I have, but I don't think it's anything concrete to be honest. Thanks for the kind words though.
Also I'm glad you have described it as deep house and not as 'bass music' or any of that bollocks, that's the last genre I want to come under. It's all house, you know? I mean 'bass music' what a fucking awful term. Same goes for 'future garage' and 'post dubstep'. Ghastly. Sounds like base jumping but less exciting.
AJ-How did you and S.E.F connect because you're "Credentials" EP is released through Switched On Records.
AD-We were tune swapping back when he was running the Deep Teknologi project with T-Williams. I played at their rave after they kindly invited me to it and then I carried on sending stuff to SEF. I wasn't really writing stuff cause I was on some dickhead tip, eventually changed certain parts of my life and started writing again, made 'Credentials', sent it to SEF at the time when I knew he was looking for something else to work on and it all just fell into place. Made 'Baidin' the week after credentials and pressure a month or two after that. I really enjoyed making 'Baidin'… I worked on it from like 11pm on a Friday until 5am on the Saturday, woke at 8am worked through 'til about 4pm, broke for an hour, then went back to it until about 3am Sunday and it was done. For me now it wouldn't take as long as that to finish something, but I was experimenting with lots of different elements on that track, before I decided to strip it back and just use that hazy sub bass line. The rest of the tune just started to roll. It was good cause I was switching between my home set-up and going over the park to make it cause the weather was really nice at the time. So that's what I think of when I listen to that track. That and some peng amnesia haze.
AJ-"Credentials" is getting support from all over the place. It's been heard on BBC Radio 1's Essential Mix, Sinden's show on Kiss, as well as being supported from loads of top DJs. Did you have a feeling that this track was going to get the reaction that it did because it seems like people took to it straight away.
AD-No. I knew it was one of my more accomplished tracks once I had finished it. But I didn't think it was good at all! It was only when S.E.F reached out and said he wanted to sign it that I thought of it as one of my better tunes. I'm still unsure about it though. I don't even feel comfortable doing this interview ffs! who gives a shit about what I've got to say!!
I think people are a bit too cocksure about their own music these days. Usually the people who just relentlessly feed their ego on twitter have the shittest tunes. Fair enough you have to have confidence in what you believe in, but there's a line between that and outright arrogance. Some of these cocksuckers are going on like Kanye West out here. I'm glad that people have took to the track and are playing it though. That means so much to me. Especially when someone told me Martyn had included it on his essential mix. Surreal times.
AJ-What you currently working on at the moment and what's next for you in terms of projects and music?
AD-At the moment I'm finishing up my second EP for Switched On. I've got one track finished for a 90-100bpm EP I've been working on too. Other than that, just working and grabbing as many bookings as possible. Have some planned collaborations for this year, however I don't make tunes to release music, I make them for me, so my frequency with which they are finished is volatile. I could go months without writing anything, then make like 5 in a day. All of the above plus fine dining/drinking/smoking.