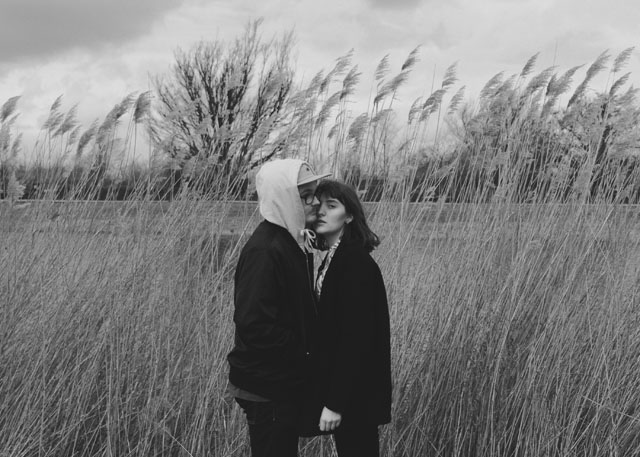 Words by Art Jefferson
Images by Frida Kärvegård & courtesy of Wy
Moody and dreamy; to fully appreciate the music of Wy is to be open to the true act of feeling. Their sound, a deeply lush and moving touch of indie and pop, is presented with honesty and sheer passion.
Comprised of singer Ebba Ågren and Michel Gustafsson, the Malmö-based couple made their debut with the beautiful single 'In Bloom'. The song would set the tone for their Never Was EP, released in November of 2016 via Hybris Records. Highly praised among music critics, the 5-song record was an enchanting soundscape of dream pop shining with deep and personal lyrics.
With their debut album 'Okay' scheduled for release on October 30th on Hybris/Better Call Rob, Wy has returned with more mature and seasoned sound, exemplified by their latest single 'What Would I Do'. The song represents the accepting of one's true self and letting go of all the aspirations to be something other than. Their finest work to date, Wy are not only posing the questions of life, but are also presenting a genuine analysis to each asked.
You two are a couple but when did you decide to actually form the band?
Ebba – We've had multiple bands together when we were younger, just for the fun of it. When we were like 15 we decided to put more effort in it and we got some blogs to post our demos from our electro-pop project in Swedish, but it all sucked, haha. But we liked making music just the two of us and in 2014 we recorded 'In Bloom' and were happy with it, then our label found us in 2016 and wanted to release it and we immediately wrote like four new songs. Only one of them ended up on our debut EP. I think that's when this band formed for real. But we've both always wanted to do this.
Michel – I've always been in different bands but I never really felt comfortable with the music or the people. When we decided to do this alone with just the two of us things really fell into place.
In terms of your individual backgrounds in music, where did your journeys begin? Were you playing and singing at an early age?
Ebba – I have been singing for as long as I can remember. From walking around with a cassette recorder at age 4 making up my own songs, to singing in a children's choir, learning to play the guitar when I was 12, starting a punk band (With Michel and my best friend) at age 14 and briefly joining a gospel choir when I was 17. I've only recently picked up the electric guitar and Michel has taught me all the tricks, haha.
Michel – My first encounter with playing music was in 6th grade when I got Green Day's Live DVD. I remember watching it and I guess the rock n roll aspect of it really got to me. Since 7th grade I've been taking special classes and stuff in music so my education has been filled with music since then. During my teenage years I decided that I wanted to learn guitar, bass, piano and drums so that's what I was up to while being in bands with Ebba and other people.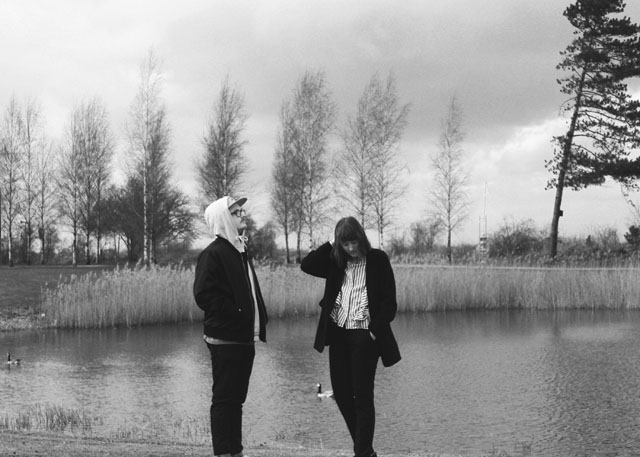 Your Never Was EP was beautiful and atmospheric. One track that is really fascinating is 'The God Concept'. Can you talk about that song and what inspired you to write it?
Ebba – It was the only early song that ended up on the EP. I kind of wrote it to my mom. We had just moved to Stockholm and I guessed I missed my parents a lot. It's about all the wise things she has told me through my youth. Also, she believes in God and I don't. She has said to me that she believes that God doesn't have to be a person, but rather like a symbol for love, and that she believes in love. I think that's beautiful.
Ebba one thing that you are quite skilled at is playing with your vocal tones on various tracks. In terms of your vocal delivery on songs, do you already know how you're going to sing them after you're done writing the lyrics or do you go more with the feel of the production and then go from there?
Ebba – I go with the production. The thing we always look for in a new song is a 'feel'. If it has the right feel we continue working on the track. I always write down my thoughts on my phone, so a lot of my lyrics are straight from my notes. I've learnt this past year that changing very little of my original thought make up better lyrics than trying to rhyme at the end of every sentence. Sometimes I have a very clear idea of how I want the vocals to be, and sometimes I go with my instinct. Other times I struggle really hard with finding a melody that's both interesting and has the right feeling. Very simple melodies can often be very powerful, and I don't like to over-complicate things. I like switching between my deep voice and my falsetto, I think a song should be fun to sing.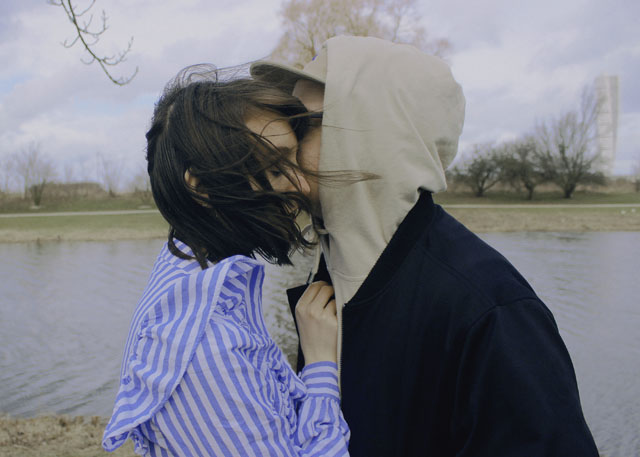 Your track 'Bathrooms', whilst still maintaining your dreamy sound, to me shows an even further growth since the EP. Would you agree with that?
Ebba – I agree with that. We've evolved so much in our first year in this band. I think being more honest in our writing, and going with our gut-feeling rather than trying to make or imitate something particular has made us write better songs. And I like being so open in our lyrics. I need to channel my feelings into something, and it's very satisfying and kind of therapeutic to do it through music.
Michel – Yeah, for that song and the whole album I think that I've been hunting down sounds instead of hooks in terms of the guitar and I think 'Bathrooms' is one of the best examples of that.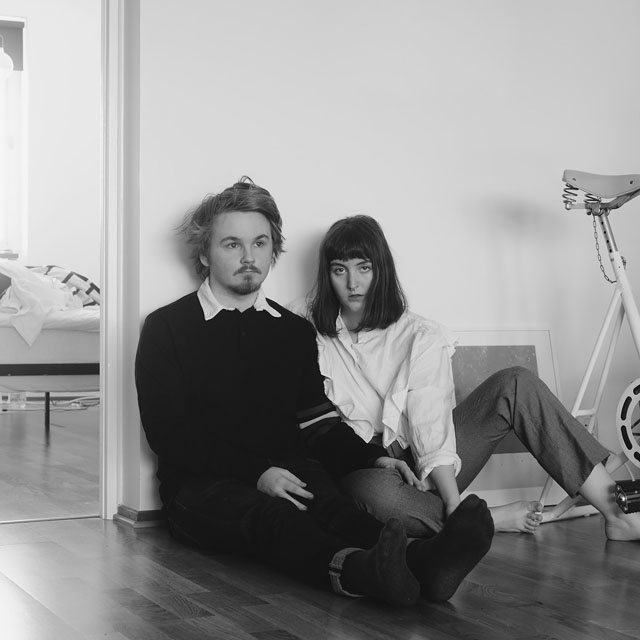 Another song that I want to discuss is 'What Would I Ever Do'. It's about accepting one's true self. What was the motivation behind this particular track?
Ebba – At the time when I wrote the song I've had a lot of realisations about my self image, and how unnecessarily hard I've been on myself. I wanted to put my logical thoughts into a song so I would listen to my own advice more and stop trying to change myself all the time. The song is a reminder to myself and everyone else that we are good enough.
With your debut album Okay, how long did it take to record and what would you like the listener to take from it?
Michel – It took about 4 months to get it all down into what it is on the record.
Ebba – I always hope that people will listen to and read the lyrics, because I feel like I want to tell people all this stuff. I don't like to tell people things in conversation, I'm kind of private, but in our music I'm wide open. I hope that people will be able to relate to it.
Finally, whenever you're in need of creative inspiration whether musically or visually, where do you turn to for that extra burst?
Ebba – I like to go running while listening to a great album from start to finish, most recently I did that with Angel Olsen's first record. It always makes me inspired. Also seeing bands you look up to play live, that gives me a lot of inspiration and motivation. It always makes me realise how much I want to do this.
Michel – I try to just sit with my guitar when I feel empty on ideas. It helps me to not worry about how the drums or bass should be.
https://www.facebook.com/wearewy
https://soundcloud.com/wearewy
https://www.instagram.com/weare_wy/
https://twitter.com/weare_wy