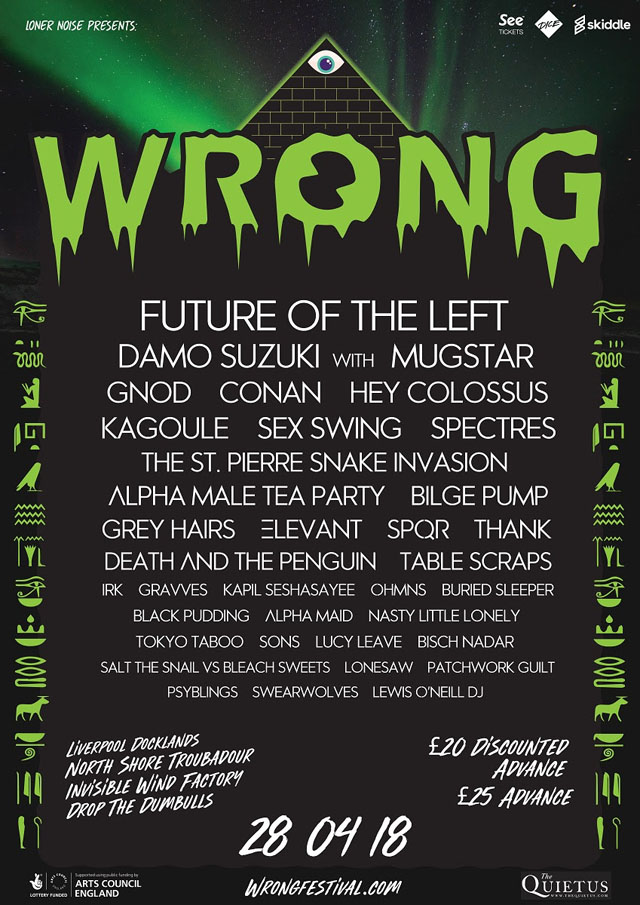 WRONG Festival are extremely pleased to announce the full line up for the unmissable second-year outing of the vital oddball rock music festival. Set to take place on the 28th of April 2018 at Liverpool Docklands, they'll be shining a spotlight on talent from both the burgeoning local, and UK-wide, Freakscene.
Joining the already-announced 2018 headliners, cult Cardiff rock band FUTURE OF THE LEFT (feat. members of Mclusky and Million Dead), organisers are pleased to reveal that MUGSTAR will be performing alongside DAMO SUZUKI as his backing band for the evening.
Also appearing as part of the newly announced clutch will be: politically-minded Manchester noiserockers GNOD, Britain's dirtiest doom-metal band CONAN, abrasive Bristol noiseout bunch SPECTRES, noisy progressive Leeds artpunks BILGE PUMP, fellow Yorkshire post-punks THANK, London alternative math-rock outfit DEATH AND THE PENGUIN, rising Brummie garage punks TABLE SCRAPS, Leeds noiserock trio IRK, local garage noise quartet OHMNS, the stoner/doom of BURIED SLEEPER, and acerbic experimental punks ALPHA MAID.
Also populating the stages across the three venues will be further newly revealed additions including London rock duo TOKYO TABOO, garage rock two piece SONS, psych-tinged jazz punks LUCY LEAVE, Liverpool prog beasts BISCH NADAR, and heavy punks SALT THE SNAIL in a special VS set with BLEACH SWEETS, in which they'll face off with alternate songs picking who goes first with a coin toss. Joining them will be industrial noise band LONESAW, Bristol dreampop artist PATCHWORK GUILT, noisy psych-rock quintet PSYBLINGS, Liverpool rockers SWEARWOLVES, and a special DJ set from former MUMS drummer LEWIS O'NEILL.
Elsewhere on the bill, festival organisers Loner Noise Records will be showcasing their own raft of talent with appearances from their roster including weirdrock trio ELEVANT, hotly-tipped artrock pals SPQR, doom-groove noise-mongers GRAVVES, singer-sludgewriter KAPIL SESHASAYEE, garage punks BLACK PUDDING and industrial post-punk band NASTY LITTLE LONELY.
https://wrongfestival.com/ticketshttps://www.facebook.com/events/1461839880597576/