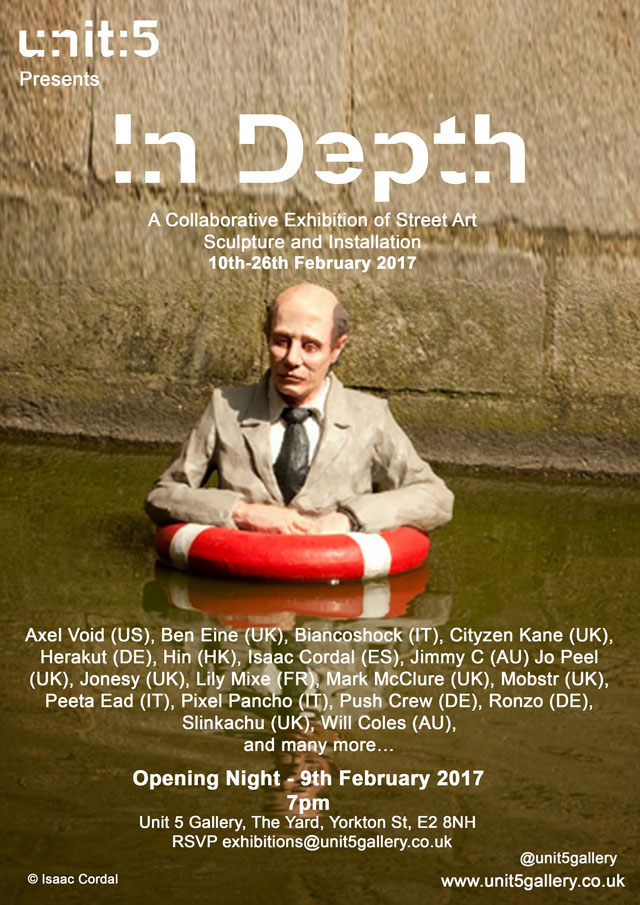 Unit 5 Gallery is proud to announce its inaugural group exhibition, presenting a spectacular collection of sculpture, installation, and three-dimensional works from a stellar line-up of local and international street artists.
In the first London group show of its kind, 'In Depth' shines the spotlight on the often clandestine yet ever expanding world of street art sculpture. The show will feature works from over 20 highly acclaimed artists; from those known primarily for their sculptural work on the streets, to those who are renowned for their large-scale murals and sought after canvases.
In the lead-up to the show, local and visiting artists will engage in a series of organised and unsanctioned street projects across London, continuing into the opening event where every wall, floor, and ceiling of the huge 1600 square foot warehouse space will be adorned with works of all shapes and sizes.
An astonishing array of technique, styles and ideas will be on display, from miniscule characters to bold classical busts; from an immersion into a computer game to delicate bronze statuettes. Purpose built 3D master pieces will span whole walls and the show's centre piece – a reconstructed, reimagined felled tree – will combine to create a unique and captivating experience for the viewer to explore.
'In Depth' will provide a chance to encounter the first street works in London from several visiting international artists. It will also be a unique first opportunity for fans and collectors in London to purchase rare three-dimensional works from some of the most renowned street artists and muralists of our times.
For more information about the artists involved as well as updates on the upcoming street interventions, follow the gallery's social channels: www.instagram.com/unit5gallery
The exhibition runs from 10th – 26th February 2017.
Opening Night: 9th February 2017 at 7pm – 9pm with drinks supplied by London Fields Brewery.
At Unit 5 Gallery, The Yard, Yorkton St, London, E2 8NH.