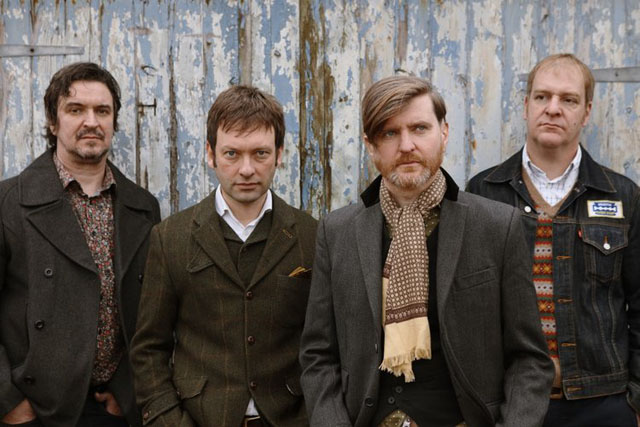 The Dials have been Brighton's secret weapon for 15 years now. And whilst it's almost hard to believe that the band formed in 2002 rather than maybe 1962, their perfect blend of psychedelic, jazz, garage, surf, pop and more is right up to par with the legends of the past. Releasing their self-titled debut album back in 2007, followed by their 2009 sophomore LP 'The Companions of The Rosy Hours' and finally their third offering 'The End Of The Pier' which landed in 2013, it seemed that the band had packed one hell of a musical ride spanning the six year range. So fast-forward to 2017, and just when you think that The Dials may have run clean out of steam, the lads have done just the opposite and pushed harder and damn near better than ever with their fourth album That Was The Future.
If the album title suggests that the future is pretty much done, then musically it would only make sense for The Dials to pull inspiration from the past to push things forward yet again. 'Once' is a classic hark to the mid 60s-early 70s period of psychedelic that is so authentic sounding that it could easily be mistaken for a cut recorded directly from The Byrds. 'The Moon & The Stars And The Tides Of The Sea' incorporates a bit of Parisian traditionalism with the acordian sitting at the forefront. Like a day at the circus, the tune is a contrasting element of tightrope highs and clown-performance melancholy. The band demonstrates their total understanding of mood-driven psych-rock with 'Everlast' whilst 'Heathen Sun' is a vibrant and upbeat pop-soaked gem, provoking imagery of park dancing in a 1960s summertime season. The soul element comes out strong in 'Gypsy Lane' all the while maintaining a Sly & The Family Stone bravery of fusion-winding pop and rock. One of the highlights of the album is 'Sail No More', where The Dials' love of jazz shine mid-day bright, with the title track tenderly closing the album down like the setting of the sun with gorgeous piano play and harmony-rich vocals.
That Was The Future is one of the surprisingly highlights of 2017. Like the saying goes, "to know the future is to know the past" and the boys from Brighton have brilliantly accomplished both in one shot, delivering one full and complete LP that will surely stand the test of time.