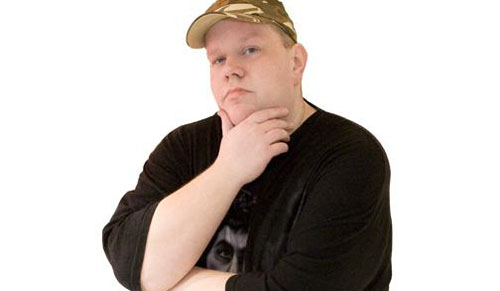 Words-Art Jefferson
Photography courtesy of Tim Adams/Juliano
If there is anyone who deserves the title of "the crate king" is Juliano of Record Kingz. Known to the world as Juliano Creator, the former half of the production duo The Creators along with Si Spex, the UK producer has worked with artists such as Mos Def, Talib Kweli, Mobb Deep, Joel Ortiz and an extensive list of some of the genre's heavy hitters. Having spent most of his life record digging in constant search of the perfect groove, Juliano set up the Record Kingz store as a way to preserve the legacy of the vinyl and continue to spread some of the best music from around the world. His clients include Alchemist, Just Blaze, DJ Spinna, DJ Toomp, Warren G, Havoc of Mobb Deep and more. From cosmic disco to Bollywood tunes, if there is one spot to have that super rare record is Record Kingz.
AJ-Tell me about the origin of Record Kingz? Was it the simple love of vinyl due to you being a DJ or did you feel there was a void that needed to be filled?
JC-For me music and vinyl runs through my dna, I used to hustle tunes as a kid on a BMX bike then quickly became addicted to B-Boy culture with classic 80s electro then soon followed my love for break and funk records.
After me and Simon broke up the Creators, I was talking to a good friend and I told him I'm gonna do a website to sell these tunes rather than flying around the globe and I need a dope name. He said its got to be 'Recordking' or 'Recordkingz' and we laughed and the rest is history.
Even Alchemist quoted me and said "Here is a guy thats given up a piece of his life to the art so if any one deserves the title recordking it's Julian"
AJ-You have had customers such as Just Blaze, DJ Spinna, Alchemist and a long list of big names in the industry flocking to get records from you. How have you separated yourself from other record stores over the years?
JC-I dont really call myself a store, more of a service. As artists are working on their albums they get to a stage and think of me and tell me what they looking for. If producers need samples they come to me.
They all really got to know me from back in the day when I was doing my thing with the Creators and almost living in the USA they would find me in a record shop or recording studio. It was my life.
I know just what kind of records producers and djs are looking for as I was hunting down the same stuff for myself and all my friends had vinyl addictions. Even as a kid we would travel far and low to hunt down the vinyl. I can remember camping outside a record shop in Birmingham as a 17 year old and sleeping in the car all night.
AJ-We all know that over the years the flooding of MP3s and digital download hubs have invaded the music industry. Many vinyl shops have shut down. What has been the key to your success within this digital age?
JC-I'm a one man band. I find the records, maintain the site, make the sound clips, post everything, even reply to the emails. People know that they are going talk to me in person and I'm going to understand what they need rather than some dude they hired off the street that just dont have the passion about the music that I do.
Only a few weeks ago I was in Russia in minus 20 weather and I was still talking to my friends and customers. It's my life to stay connected to music in some way.
I also have a demented digital collection of music over 3tb so I can cater for everyone and I'm not talking MJ or Madonna. We're talking rare craziness from all over the world…afro, disco, Turkish, Thai, Israel, Pakistan, Chile, China. I picked up music from everywhere over the last 3 decades.
AJ-While many people are scouring the internet to find tracks on the internet whether iTunes, ect…you have rare records that were never digitized! How do you possibly find many of the rare gems?
JC-Some crazy records I got I bought 10 to 20 years ago and have hoarded ever since. My last buying trip was in Russia and I've been around the globe. If there is a country that I have not been to looking for records, believe me, I want to go there.
In the digital age a lot gets moved to the new format but I can tell you the honest truth; over 30 to 40 years so much good music have been made in so many diffrent countries, it's just not possible for any one person to hear everything.
I mean you try listening to every Japanese manga soundtrack ever made. There is just to much good music when you get deep into it.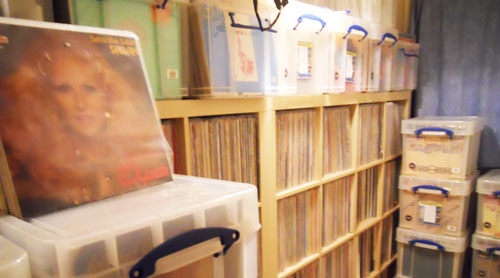 AJ-What are some of your top selling records as of recent?
JC-I dont really have top selling records more like top selling genres. Russian prog rock, Koto and Shamisen orchestral, Arabic and Turkish psych and funk, kung fu and Asian Hong Kong action…
Also, people seem to check me a lot for library and Cosmic/Disco electronic music. These are by far my best sellers.
AJ-Finally, in your opinion, what does the future of vinyl records look like to you?
JC-Well I'm part of a crusade to keep this art and vinyl alive. I have a new recordkingz music project coming out with chess move cartel and 730 promo and i'm going back to vinyl full stop as I belive people want a physical product not a virtual product and something thats a bit special like that feeling when you go to a record store and actually take something home with you.
I think mp3s are killing music because they such a low quality format. If you look at a CD, that's even 16 bit and seriously outdated compared to other digital formats. All my digital files are 32 bit 96khz and comparing them to an mp3 would be insulting sound quality wise and thats not being harsh.
I want to see artwork and credits for my music. I also want it to sound hi-fi and lush. We will also be selling downloads but I will insist on 24 bit high quality wav downloads with full printable booklets i.e. proper artwork.