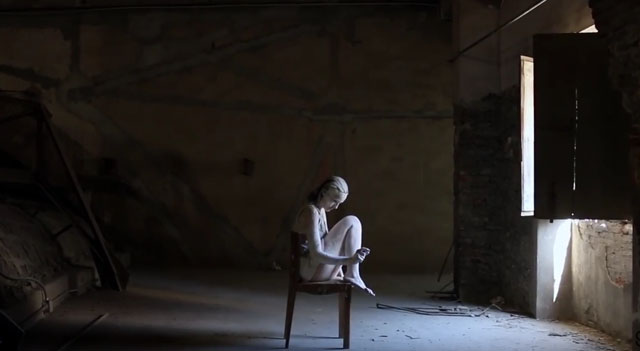 We can always count on Sarah P. to deliver music that pushes the boundaries of art as well, not to mention is ripe with thought-provoking substance. Questioning the idea of roots and identity, the Berlin-based singer unveils her video for the single 'Who Am I'. Directed by Oirot Bunto and filmed at the 250 year old Teatro Rossi Aperto in Pisa, the imagery features a girl who roams around whilst ghostly dancers fill the theatre, eventually surrounding her and pulling her in as one of them.
Touching on the video, director Oirot Bunto wrote:
"I shot the video in the Teatro Rossi Aperto, an abandoned then squatted, 250-years-old Italian late-baroque theatre in Pisa. It's a stunning place and it's wonderful how perfectly it fits with the increasing rhythm of "Who am I". This is my very first professional experience and I'm proud I made it with Sarah P. – and I'm also happy, of course. I would like to thank all the people that struggle every day to keep the Teatro Rossi Aperto open, and all my friends that participated, and Sarah for this opportunity and amazing experience."
In a press statement regarding the song itself, Sarah P stated:
"I go on saying that we live in a world of broken values and ethics. What we used to know as right seems to fade – sometimes for a good reason, some others to take us back to scary times. Good things happen, bad things happen – but we're spinning so fast. We struggle to keep up – at least I do. And as you already know, I believe that going back to our roots and revisiting our history might help us to see and act clearer. Already with my previous song, "Berlin During Winter", I talked to you about how I see things – how I don't see a point in repeating mistakes and the importance of introspection.
That question – who am I? So simple, yet so emotionally charged. I went on for years asking who am I and where do I belong. I always felt connected to my Greek roots, but disconnected from Greece's modern society. I always wanted to fly away from my mother land's nest. When I did, I realised that people, in the exact moment they would learn that I'm Greek, they would reduce me to that, when all I wanted was to take bits and pieces of all cultures and be a real citizen of the world. However, it seems like my heritage can't let me be what I want to be – and I don't blame it a single bit."