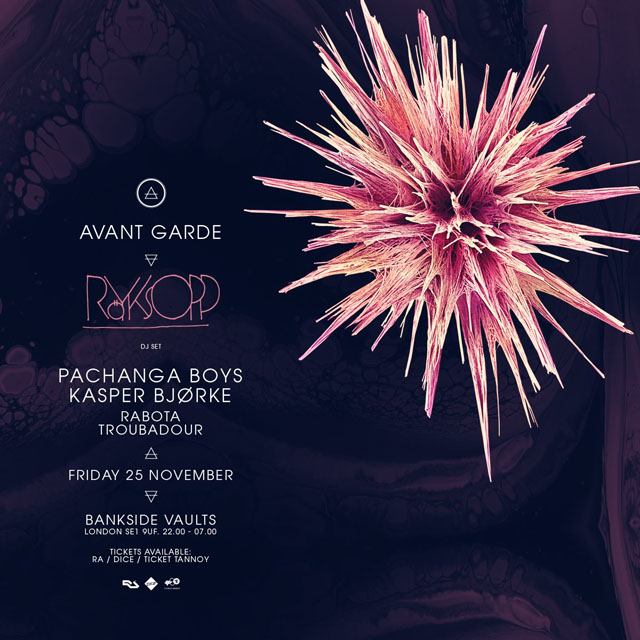 Röyksopp
Pachanga Boys / Hippie Dance
Kasper Bjørke
Plus support from;
Rabota
Troubadour
nICo
Qash
Bankside Vaults, London
Fri 25th November 2016
11pm – 6am
We've had some of the greatest artists in electronica play for us over the last few years, with the likes of Trentemoller, Apparat and Kiasmos gracing the stage at Avant Garde events. However, in November we bring you an act who helped introduce a generation to melodic electronic music and who have produced some of the seminal tracks of our time…
Röyksopp probably don't need an introduction, and it's amazing to think that seminal album 'Melody AM' came out in 2001, an album voted as one to listen to before you die by The Guardian and contained the wonderful crossover hit 'Eple'. The duo describe their sound: "It's us searching for the truth," Torbjorn states bluntly. "But if we came up with one sentence it would be to combine the harmonies of film music and of classical composers such as Erik Satie and melodies of Francis Lai (arty porn film producer) with the analogue warmth of Seventies and the fatness of the Eighties over a thorough beat programming." We're expecting a musical and emotional rollercoaster from the Nordic pair's extended DJ set.
We're got a super secret special guest joining Röyksopp, although there's not a lot we can tell you at the moment. All we can say is: you won't be disappointed. The two headliners will be backed up by the menage a trois of residents, RABOTA, TROUBADOUR and NICO.
The Bankside Vaults host us for the evening, the cavernous old train depot will surely be rocking to the sounds of the Nordic masters of funk.
Bankside Vaults
1 Invicta Plaza
SE1 9 London