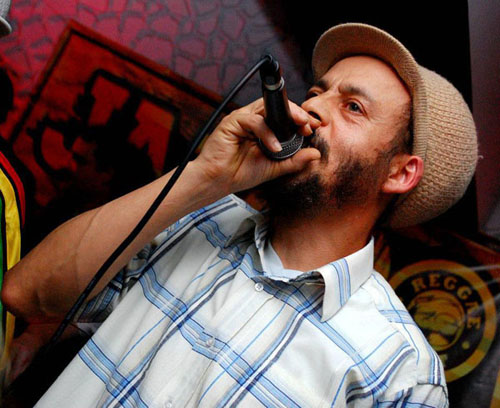 Words-Art Jefferson
Images courtesy of Ramon Judah
Like the process of growth within nature itself, Ramon Judah's artistry has too risen in an organic matter making him one of the shining jewels of the UK reggae scene. His melodic voice exudes the same power and soul as great singers such as Dennis Brown. There would be no wonder why the vocalist has performed with bands around the world and is a long time fixture on the reggae circuit, having not only performed with big names in the scene, recorded with producers such as Adrian Sherwood, The Bush Chemists and Vibration Lab, but was also the host at the legendary Dub Club and can now be found at one of London's premiere reggae nights, the Reggae Roast.
With a commanding yet humble presence, Ramon Judah's confidence exhibits that of a man who was born to make music. In fact, music literally runs through his roots and DNA. Judah is the son of well known musician Sugar Dean, who not only established himself as one of the top musicians in the Liverpool arena, but worked with musical giants such as The Beatles and Chuck Berry. As a youth, Ramon Judah recieved first hand lessons about not only the art of making music but also the business of it. Those lessons would be something that he has carried with him throughout his career.
With the sound of reggae and dub music reaching new heights yet again, Ramon Judah is right there in the midsts spreading positive messages of upliftment, unity and social awareness. His latest recording "Deliver Me", with another mainstay in the scene, Conscious Sounds, features remixes by Bristol pioneer Rob Smith of Smith & Mighty fame. Released on the Reggae Roast label, Judah's golden voice sounds ever more brilliant and is a necessity for an audience yearning for the feeling of someone truly delivering music from the heart and soul.
AJ-To start, people should know that music runs in your roots because your father Sugar Dean was well known in the Liverpool scene. Musically, I would have to imagine that it left a huge impact on you as a youth. What were those times like for you growing up around that environment?
RJ-I grew up in a musical family. My father was a major force musically in Liverpool. He performed with all the greats, the Beatles, Little Richard etc…Me and my sisters grew up singing and performing. It was just a normal ting. Watching how my dad worked, taught me about dealing with the business in an organized, professional manner on and off the stage.
AJ-Around what year did you and Dougie Wardrop over at Conscious Sounds begin working together? He's another person who has been in the scene, going back to the early nineties with The Bush Chemists and you all have the single "Deliver Me" dropping soon.
RJ-I met Dougie in the early Nineties. In those days before internet, many individuals who were on the London reggae scene would meet at a shop in Finsbury Park called Pepe's Records. It was a place where the bredren could promote their new tunes and find out about the next dances coming up. A real community ting. Culture Freeman worked there and I linked up with Dougie through him. In those days everyone knew each other. I had been on the mic at The Dub Club for a while and I had sung on all the major sounds in London, so Dougie had already heard my voice. We got in his studio and made a tune called "Come Together". I didn't think much of it until Dougie got a hold of me later and said all the copies of that limited run were snapped up by a guy in France. I went on to travel the world as a merchant seamen, singing in reggae clubs from New Zealand to America. Dougie went on to become one of the most important producers in the scene. When I eventually got back to London, we would see each other from time to time, but I always had in my mind to work with him again. We finally set it up and "Deliver Me" was the result. I have also voiced other new tunes for Conscious Sounds and they will also eventually be released. I have a lot of respect for Dougie. It's been great to work with him again and kind of complete the circle.
AJ-One of the debates that have gone on in reggae for years is the debate over digital sound vs. the traditional reggae band. What's your opinion about it because you know how to strongly deliver over both?
RJ-If I had my ultimate choice, I would always prefer to sing with a traditional reggae band. I feel that it's the very best way to hear reggae music. But I am just as comfortable singing with a DJ inna digital style. The most important thing for me is getting the positive message of Jah Rastafari out to the people dem. The format is not important.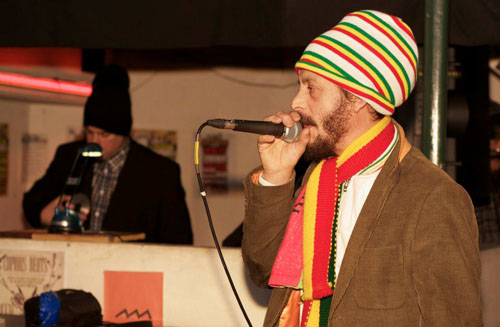 AJ-Although you have performed with numerous bands, one band that sounds great is White Lion's Kromatic Band. You and those guys are amazing together. Are there any plans to do some studio recordings them?
RJ-Many thanks. Yes there are plans to record in the pipeline. I think it would be nice for the people to hear what I can do with a band, but at the moment I am concentrating on establishing myself as a solo artist. Besides my work with Conscious Sounds, I have done tunes with other top producers, which I will collect together as my solo LP in the future.
AJ-Over the past couple years I have witnessed more of the youth gravitating towards the sound of roots and dub, and not just new roots, but they are going back to discover the classics. Do you think this is a result of people craving music that is more organic than what they have been fed over the past few years?
RJ-The youth have been exposed to so much mass media and Babylon ways; they don't know who to trust. The reggae music brings them together in a safe, positive and organized fashion plus it has a meaningful, uplifting message. The music still delivers that heavy bass sound that they love, but the songs are beautiful and make you feel good. If the youth give it a chance, they can't help but be affected inna good way, a righteous way, which is a real difference to what they normally get fed inna Babylon.
AJ-Whether recording or doing live shows, it seems like there's a strong spiritual connection with you and the music because even with the live stuff that I have seen, you're able to instantly connect to the musical vibe that is there and simply shine. What feelings run through you when creating this art?
RJ-Most people out there have been mis-led & mis-fed. They grow up hungry for the truth. When they come to reggae music they feel that balance. The dance is like my church and with my strong belief in His Imperial Majesty, Jah Rastafari, King Selassie I, I have a deep calling to help guide the people in the understanding that we can build a better world. I try to express to the people the importance of human life, the value of each and every individual, the value of dealing with everyone as one family; everyone is your brother or your sister, respect for all living things. Bring back the love, restore it, don't ignore it!
AJ-Finally, I know those in London can catch you at Reggae Roast but you constantly play shows in various countries. Where can people catch you in the coming months?
RJ-Catch me at the InSpiral Lounge with Reggae Rockers in Camden in April plus various upcoming shows with Reggae Roast and some upcoming international dates. Check my Facebook page for all the details.
https://www.facebook.com/RamonJudah