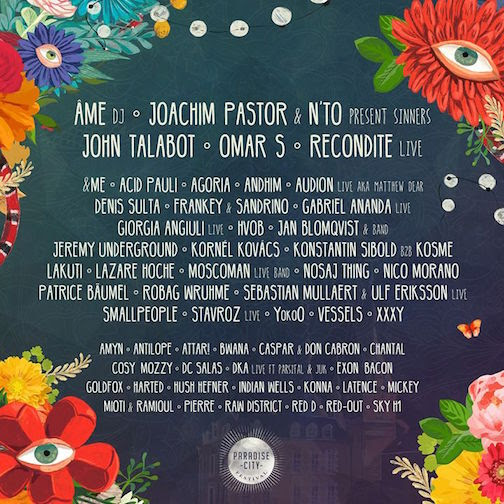 Full Line-up:
Âme DJ – Joachim Pastor & N'to present Sinners – John Talabot – Omar S – Recondite live
&ME – Acid Pauli – Agoria – Andhim – Audion live (aka Matthew Dear) – Denis Sulta – Frankey & Sandrino – Gabriel Ananda live – Giorgia Angiuli live – HVOB – Jan Blomqvist & Band – Jeremy Underground – Kornél Kovács – Konstantin Sibold b2b Kosme – Lakuti – Lazare Hoche – Moscoman live band – Nosaj Thing – Nico Morano – Patrice Bäumel – Robag Wruhme – Sebastian Mullaert & Ulf Eriksson live – Smallpeople – Stavroz live – YokoO – Vessels – XXXY
AMyn – Antilope – Attar! – Bwana – Caspar & Don Cabron – Chantal – Cosy Mozzy – DC Salas – DkA live ft Parsifal & Juk – Exon Bacon – Goldfox – Harted – Hush Hefner – Indian Wells – Konna – Latence – Mickey – Mioti & Ramioul – Pierre – Raw District – Red D – Red-Out – Sky H1
Just like the previous two editions, this year's Paradise City Festival boasts a healthy mix of both established and up-and-coming DJs and live artists. Spread out over three days and three stages (2 DJ stages and 1 live stage), the festival will once again be a musical journey of discovery in a magical setting.
Recondite: currently one of the most popular live artists in the electro scene, and runner-up in the list of Best Live Acts according to Resident Advisor.
Sinners (N'To & Joachim Pastor): this will be the Belgian debut for these two Frenchmen's new project called Sinners.
Nosaj Thing: one of the big names in the L.A. electronic beat scene, having already produced tracks for Kendrick Lamar, Chance the Rapper and Kid Cudi.
HVOB: The Austrian duo of Anna Müller and Paul Wallner already performed at the first edition of Paradise City. HVOB have since established quite a name for themselves, playing a sold-out show in the Ancienne Belgique in Brussels and releasing their debut album (SILK).
Moscoman: the manager of up-and-coming Israeli label Disco Halal will take to one of Paradise City's stages with a full live band! A first for Belgium. Moscoman brings a unique sound, combining rock 'n' roll, disco and house elements, all infused with a special Middle Eastern flavour.
Giorgia Angiuli: this rising star in the Italian music industry brings full-on girl power. Giorgia creates addictive, playful music with the most bizarre implements, including Moogs and toy instruments. A feast for the eyes as well as the ears!
Sebastian Mullaert & Ulf Eriksson: Mullaert, a Swede known as half of Minilogue, will be bringing a two-hour live session together with Ulf Eriksson. Expect a soothing, Zen-like musical trip; a glorious physical and emotional experience against the enchanting backdrop of the Perk castle …
Gabriel Ananda: soulful melodic techno, brought to you by a German DJ who knows the ropes, having played some of the biggest festivals. Together with Maceo Plex and Dominik Eulberg he has already created several classics. At Paradise City, Ananda will play a full live set – a pretty unique event, and definitely something to look forward to.
And what about the Belgians? Of course there will also be a dash of chauvinism at this year's Paradise City, by way of a great selection of top acts from the Belgian techno scene. Live acts will include SKY H1, Stavroz, Amyn and Harted.
Paradise City
23, 24, 25 June 2017
Perk Castle (Kasteelhoekstraat 1, 1820 Steenokkerzeel)