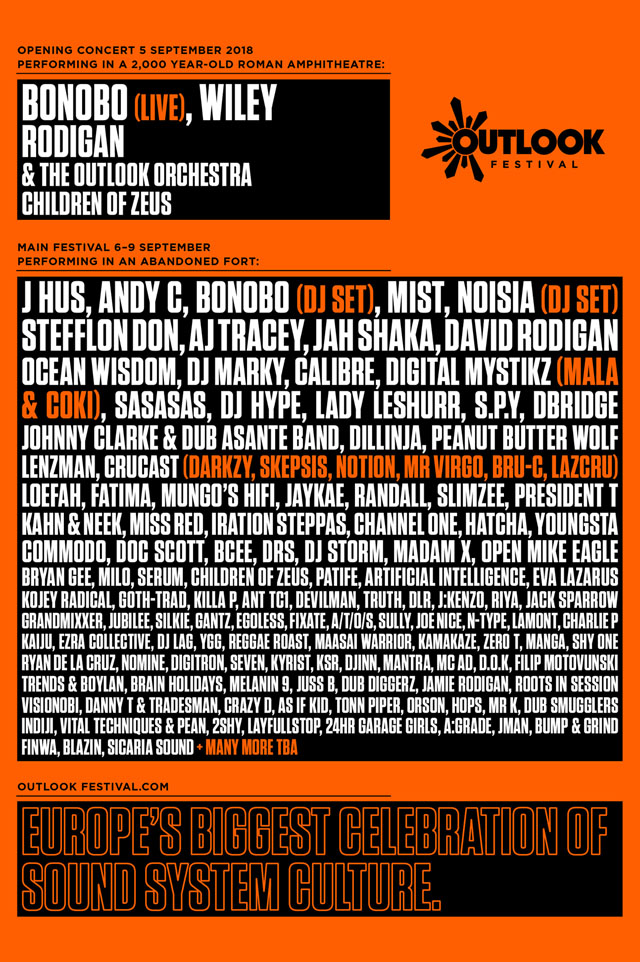 Lineup:
24hr Garage Girls – 2Shy – A:Grade – A/T/O/S – AJ Tracey – Andy C – Ant TC1 – Artificial Intelligence – As If Kid – BCee – Blazin – Bonobo DJ Set – Bryan Gee – Bump & Grind – Calibre – Channel One – Charlie P – Children of Zeus – Commodo – Crazy D – Crucast – Darkzy, Skepsis, Notion, Mr Virgo, Bru-C, Lazcru – D.O.K – Danny T – David Rodigan – dBridge – Devilman – Digital Mystikz – Mala & Coki – Dillinja – Dj Lag – DJ Marky – DJ Patife – Djinn – DLR – Doc Scott – DRS – Dub Diggerz – Dub Smugglers – Dub Smugglers – Egoless – Eva Lazarus – Ezra Collective – Fatima – Filip Motovunski – Finwa – Fixate – Gantz – Garage Girls – Goth-Trad – Grandmixxer – Hatcha – Hops – Hype – Indiji – Iration Steppas – J Hus – J:Kenzo – Jack Sparrow – Jah Shaka – Jamie Rodigan – Jaykae – JMan – Joe Nice – Johnny Clarke & Dub Asante band – Jubilee – Juss B – Kahn & Neek – Kaiju – Kamakaze – Killa P – Kojey Radical – KSR – Kyrist – Lady Leshurr – Lamont – Layfullstop – Lenzman – Loefah – Madam X – Manga – Mantra – Massai Warrior – MC AD – MC Pean – Melanin 9 – Milo – Miss Red – Mist – Mr K – Mungo's Hifi – N-Type – Noisia – Nomine – Ocean Wisdom – Open Mike Eagle – Orson – Patife – Peanut Butter Wolf – President T – Randall – Reggae Roast – Riya – Roots In Session – Ryan De La Cruz – S.P.Y – SASASAS – Serum – Seven – Shy One – Sicaria Sound – Silkie – Slimzee – Stefflon Don – Sully – Tonn Piper – Trends & Boylan – Truth – Visionobi – Vital Techniques & Pean – YGG – Youngsta – Zero T
A solid cast of grime and rap talent joins with rappers, MC's, and DJs flying the flag. North-West London's AJ Tracey brings pure heat to the Outlook stage, with stalwart and ex Roll Deep member Killa P. Camden mic-murkers YGG are set to slay at Outlook '18 too. Deep MC's are a plenty – Lady Leshurr, Jaykae and Kamakaze rep for the Midlands with raw and rugged bars, and MCR Darkside Crew member, President T, all join. Rinse FM's Grandmixxer journeys through his record collection – expect stone cold grime classics and more, whilst Trends & Boylan showcase dark, icy instrumentals. UK rap has risen to the top this year, with the likes of MIST putting the scene, and his hometown of Birmingham back on the map after a Mobo win and more. Melanin 9 and Ocean Wisdom are part of the next wave of rappers putting a distinct take on UK hip-hop, Outlook welcomes them along with mainstay acts like Devilman. Alternative beats come from the wondrous, soulful Fatima, hip-hop explorer Open Mike Eagle, Israeli MC Miss Red, and Goth-trad. Boundary defying breakouts to check are Ryan De La Cruz, Ezra Collective and Layfullstop, who fuse jazz and hip-hop influences. Stone's Throw founder Peanut Butter Wolf, BBZ member Shy One and eclectic selector Eva Lazarus lay down selections across the week.
Dub and reggae have been at the heart of Outlook from day one, with a strong contingent of artists old and new on board. Roots-Reggae godfather, Jah Shaka, heads up Outlook's dub offering, a powerful force since the early 70's, shaping the sound of dub and reggae in the UK. Sound-system kings, Channel One's trademark system will shake Fort Punta Christo, as well as Leeds born, internationally rated Iration Steppas. With a career spanning forty years as a selector, curator and pioneer the scene, Rodigan joins – with his son Jamie Rodigan, who follows in his father's footsteps playing reggae, bashment, dancehall and more. Also find prototype Jamaican dancehall singer Johnny Clarke & and his full Dub Asante band playing. Dub Smugglers fuse dub and hip-hop, Mr K and Massai Warrior from Bristol. Danny T & Tradesman provide tropical dancehall and reggae flavours.
Using only the highest spec of sound systems Outlook Festival is a playground for audiophiles, making it the ultimate place for bass. And there's plenty of it! Making a welcome return is the leading lady of bass explorations, Madam X, alongside Swamp81 bossman Loefah, and Jubilee who'll bring hi-energy, colourful club sounds to the table. Repping for Bristol are Commodo, Gantz, and Lamont, as well as long-term Outlook team Bandulu boys Kahn and Neek. Sully also joins with ice cold blends of jungle, bass and grime, plus brother tag team Vital Techniques, covering all bases of UK bass, garage, and DnB. A worldly take comes from Durban hero, DJ Lag.
DnB and jungle heads are well and truly spoilt this year, with plenty of 160BPM+ action across Outlook's eight stages. The enigmatic Calibre returns to the fort, with RAM Records head honcho, Andy C, and ever-iconic Dillinja, Doc Scott and Randall. Playaz co-founder DJ Hype is one of the seminal acts joining, with the magic DJ Storm – a long-term legend. Dutch trio, Noisia, bring their deep, dark sound to the bill, plus BCee. Exit Records founder, dBridge, returns after a monumental EXIT stage takeover with label family, J:Kenzo and FIXATE, with Bryan Gee, founder of iconic imprint V Recordings in tow. Queens of the genre, Kyrist and Riya join, vocalists and producers who've had a major imprint on the circuit in recent years. From the Metalheadz extended camp are Lenzman, DLR, ANT TC1 and Artificial Intelligence, with DJ Marky and DJ Patife adding a South American flavour. DJ Phantasy, Macky Gee, Stormin MC, Harry Shotta, Shabba D & MC Skibadee form ultimate DnB squad – 'SaSaSaS.'
Festival Tickets : http://www.outlookfestival.com/tickets/