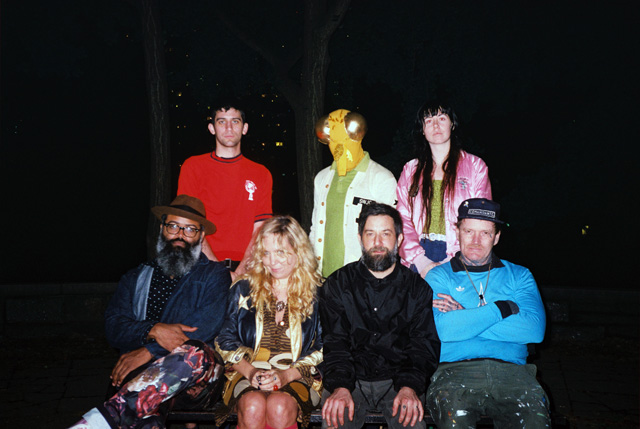 Words by Art Jefferson
Images by Latex Lucifer and courtesy of Ice Balloons
NYC band Ice Balloons are consistently dubbed as a super group. To an extent that may be true but the group are first and foremost friends who have come together to create art with absolute freedom and room to explore. Consisting of Sean Kennerly of Samiam, TV On The Radio's Kyp Malone, Sean Powell of Fuckemos, Midnight Masses' Giselle Reiber, B.A. Miale, Rob Bryn of Wild Yaks and Dan Scinta, their music is a collage of riotous punk, New York no wave, garage rock and noise all rolled up into one event of a listen. To call it energetic would be an understatement and in terms of their stage show, well let's just say that it is probably one of the liveliest performances one could see…ever! Wilder than wild, the 'common fly' charges about on stage singing vocals and at some point in the show there may even be sparks popping and flying about on his body.
Ice Balloons' 2013 self-titled album was a complete head-spin, powered with a psychedelic charge that, whilst appearing to be a total free-form operation, also contained a method to the madness. Raw, organic and clutching, there was a core spirit that harked back to the golden period of NYC punk and performance art.
Back with their second album Fiesta, set to land in August, Ice Balloons' first single from the LP titled 'Calypso Heartworm' is a slick and hyper take of post-punk, noise and more that is the initial set-off for the roller coaster ride that is about to happen. Like taking a trip through the rabbit hole of Wonderland, it's more than likely going to be a journey that you'll find yourself eager to try again and again.
Although you all are highly respected as musicians from the work with your individual bands, Ice Balloons have become an entity on to itself, developing this almost cult following over the past five years. You didn't necessarily flood the internet but rather seemed to have kept it for those in the know. Was that intentional?
Sean Kennerly – We began in total smoke and chaos and would have fried the internet circuits if we'd gone to them too soon.
I would imagine that all of the members already had an admiration for one another's past work but who actually proposed the idea to all join together as one band?
Sean Kennerly – The band came to the fly in a fever dream induced by altitude sickness and then slowly coalesced as the dream was shared. It took about a year to get everyone together.
Going back about four years ago, some videos would read 'Ice Balloons featuring Kyp Malone'. Was that strictly due to legalities?
Sean Kennerly – No that's just the way Noisey and other outlets wanted to present the work, taking the angle of the most famous person.
There is a particular free and liberating spirit in your music that makes me hark back to the period of not just punk but also New York no wave. Does playing in Ice Balloons give you maybe that extra freedom to completely go wild with no boundaries opposed to maybe some of your other projects?
Sean Kennerly – Yes, totally, and we do approach the band in that early no wave/punk sense of just being wrong and not really having a rigid codified system.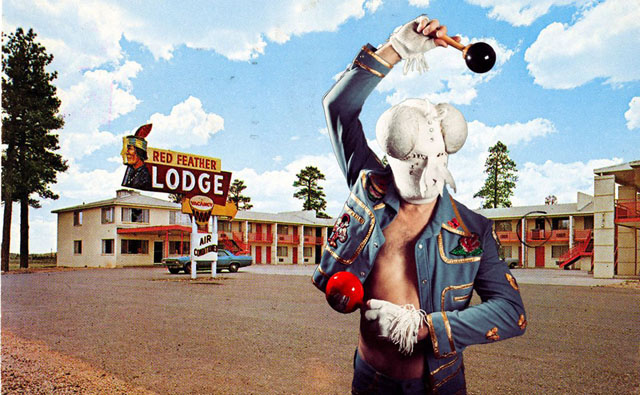 Your new album Fiesta will get released via Volar Records. Judging by your song 'Calypso Heartworm', we're in for another roller coaster of a ride. What can fans expect from the new record?
Sean Kennerly – We have all three styles of music on there! There is darkness and light, sadness and joy, fall and spring – you might say a study in contrasts.
When in the studio recording, do you guys basically do jam sessions or is it more orchestrated takes?
Sean Kennerly – The songs are tight but the noises run free.
Your live shows are CRAZY, in a great way. I'm sure you have loads of stories from performing. What is one of the craziest things you've witnessed at one of your shows?
Sean Kennerly – Sorry to be disappointing but our shows burn away as they're happening and I really truly have almost no recollection of them even immediately after they occur.
Can we expect more body sparks from the common fly on stage?
Sean Kennerly – Yes absolutely!
https://www.facebook.com/IceBalloons/
http://www.volarrecords.com/
Preorder Fiesta on Bandcamp.