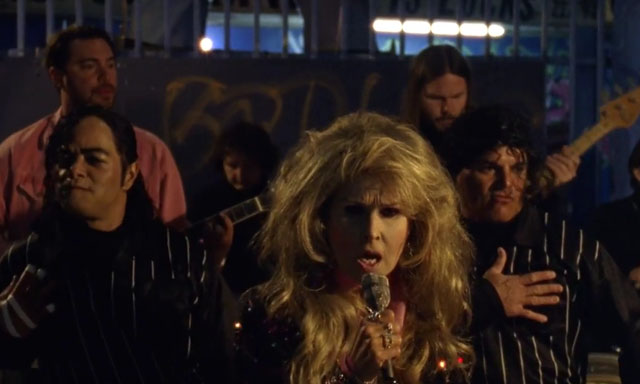 It's one thing to maybe come across one Michael Jackson impersonator in your time, but to feature two in the same setting; this may sound like an absurd dream of Hollywood Blvd., but in fact it is the latest video by Hanni El Khatib titled 'Paralyzed'. Directed by Daniel Pappas, there is a blonde woman featured in the vid who sings Hanni El Khatib's part whilst the MJ look-a-likes get busy behind her performing a few signature dance moves of the original Mike. The song is taken from Hanni El Khatib's latest album ' Savage Times', out now via Innovative Leisure.
Touching on the video, Hanni El Khatib stated:
"I had a dream or something occurred in my subconscious where I was performing with Michael Jackson. When I woke up in the morning I kept thinking about how cool it would be to get Michael Jackson to be in the Paralyzed video.
Daniel and I went to the Cozy Inn in Culver City one Sunday afternoon to talk about the video and the bartender, Robin Tapp, walked up asking us what we wanted to drink. We were both instantly captivated by her. She had on these Pepto Bismol pink hand strips that looked like a PBA bowling hand brace and this incredibly smooth voice. We got to talking with her and found out she was a singer/songwriter and asked her if she would want to do the video. Come to find out Robin was nominated for an Outstanding Original Song Emmy in 1993 for something she performed for the soap opera One Life to Live.
With Robin set as our lead singer it made sense to live out my dream and hire some Michael Jackson impersonators as the backup dancers. One of them, Scorpio, is another Los Angeles legend who performed with Michael Jackson at the 1993 Super Bowl in Pasadena. He jumped out of the ceiling of the stadium. You know whether you are Michael Jackson or an Emmy nominated singer or a Michael Jackson impersonator we all just want to perform on any stage we can find."