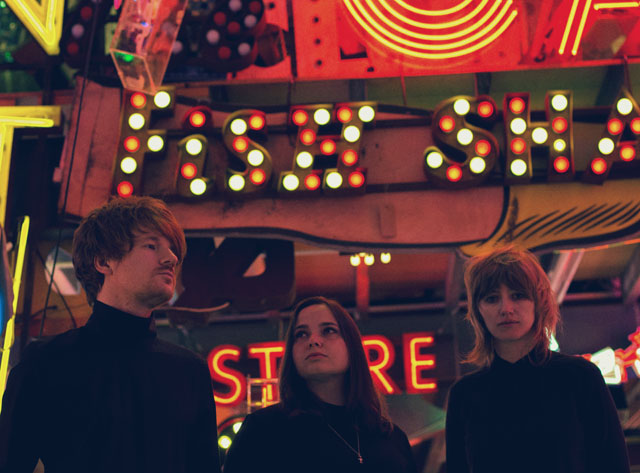 Words by Art Jefferson
Photography by Emi O'Connell and courtesy of Everything by Electricity
London-based Everything by Electricity is a group who have been captivating listeners for over the past four years now. Fronted by Siberia-raised singer, multi-instrumentalist, producer and founder Yulia Bizyukova, along with drummer Manoela Alencastro and Daniel on bass and synths, the group capture everything lush, warm and frankly great about dream pop. Sew in linings of new wave and indie and what you get is EbE's otherworldly and rich sound that bursts through the speakers with sheer gaiety.
Having been supported by various music sites throughout the UK and abroad for previous recordings, Everything by Electricity's magic is perfectly exhibited with their latest single 'Last Day Of The Sun'. The track also vibrantly highlights Yulia Bizyukova's uncanny trait as a multi-functionalist, not only performing vocals, but practically playing every instrument besides drums (played by Manoela Alencastro), with mixing, production and even the artwork all handled by the artist. Musically grand, the dreamy pop piece floats between brisk winter melancholy and warm optimism as the juxtaposition between the lyrics and musicality spark an interesting dynamic.
Having performed this past summer with the likes of Helen Marnie of Ladytron, Everything by Electricity is ready to storm into the new year with their illustrious and luminous soundscape.
You are a multi-instrumentalist as well as a producer and singer. Around what age did you start learning to play various instruments and what were some of your musical influences?
Yulia – I grew up in Siberia where accordion is quite a popular instrument, you can often hear it on a radio, television, in the streets and unfortunately my mum really liked the sound of it, so I had to go to a music school and learn it when I was 9, although I didn't like it at all. I saw a school band once and they had electric guitars and synthesizers, and I thought, I really want to do the same, so I started learning to play guitar and began writing songs around the same time too.
My dad had a lot of 80s Italo-pop and synth-pop tapes and I grew up listening to them and at a later stage I got into guitar and shoegaze music.
Back in Siberia, were you already properly recording music before you made the move to London?
Yulia – I used to experiment with deck-to-deck tape recording in my childhood. I had tons of songs written and wanted to record them because for some reason I thought they were good, so I would borrow my dad's tapes and record a guitar to deck A and then record something else over the guitar track onto deck B and so on. So my dad would put on his Pet Shop Boys tape and there would be my album on it, he had my dodgy albums recorded all over his tapes which is a shame really, his tapes were so good.
Later when I already had a band in Siberia, we went to a recording studio there to do a demo EP and it was a dreadful experience. There was a sound engineer who also totally controlled the mixing process and although those were my songs and I knew how I wanted them to sound, the engineer would never let me do anything. I must have heard "too much reverb" phrase over a hundred of times.
Luckily a friend of mine had a small recording studio at home, he brought it to my place once and showed me how to use it, just before I moved to London, so I've had a few weeks of total creative freedom and realized I needed my own studio.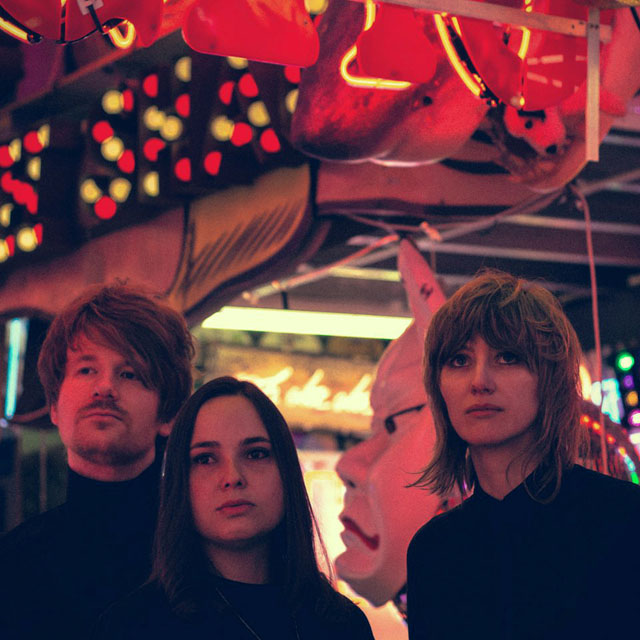 I know that you were recording numbers of demos after you relocated to London. When did you decide to put the entire band together?
Yulia – I always had an idea of being in a band, but it took me a few years to form Everything by Electricity and figure out our current live setup. The easiest and the quickest part for me is always writing and recording while transforming the recorded material into a live set was quite a journey. There is always a dozen of synth and guitar tracks on my demos and as I write, I never think of how they will be played live with just three pairs of hands but we got it right this time I think, it was all worth the time spent working on it for so long.
Everything by Electricity is such a great name. Can you talk about the origin of the band name itself
Yulia – Thank you, Art! It is taken from 20000 Leagues Under The Sea book by Jules Verne, there is a chapter called 'Everything by Electricity', or 'All by Electricity' (in various translations) where Nemo describes that his vessel runs entirely by electricity. I love it how he refers to electricity as the most important element and a soul of the vessel. Having a very technical and electronic live setup, electricity is the soul of our "vessel" too. Ok this sounds extremely cheesy 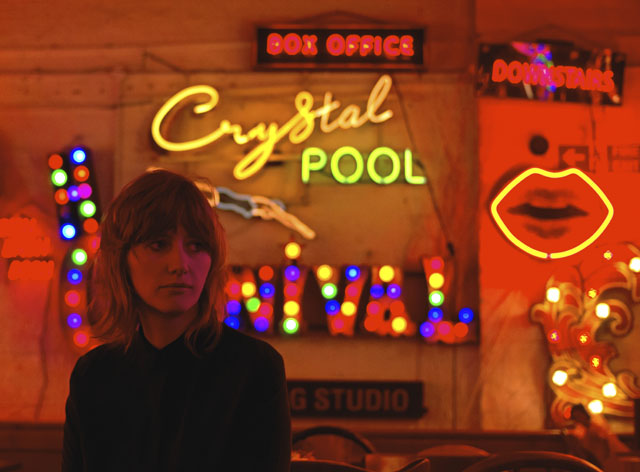 Your single 'Last Day Of The Sun' is one dreamy ride incorporating synth-pop down to indie-style guitars. Whilst there is a warmness to it, there is also a chilled blanket that lies over the track. What was the inspiration behind the song?
Yulia – Yes, there's a bittersweet taste to it. I wrote it very quickly when I came up with a riff on acoustic guitar and I instantly had a melody over that riff in my head. I thought it would be a happy song but as I worked on it further and developed a major/minor chord progression in the bridge, the melody kind of expressed what the lyrics should be so I finished the song and realized I wrote yet another depressing one.
In terms of production, the tune is also quite full and expansive. With producing, creatively how do you approach a track. Do you start off with drum patterns first and add-on or do you start off with melodies that you may have in your head and then expand from there?
Yulia – I always start off with a melody over a guitar or synth riff and then if I feel that the idea is worth working on, I draft a rough sketch of it in Pro Tools and start developing it further by layering instruments. This process is the most fun part for me and it's similar to painting – you know when you keep layering different colourful things on top of each other and they change their original colour and develop into something else? The only difference is I have the advantage of deleting and re-recording the layers in Pro Tools without over-saturating the overall picture. I often mix the tracks on the go and take my laptop everywhere with me, it's nice to be able to mix a song on a plane or a train with pleasant views but I always run the final mixes through monitors at the latest stage.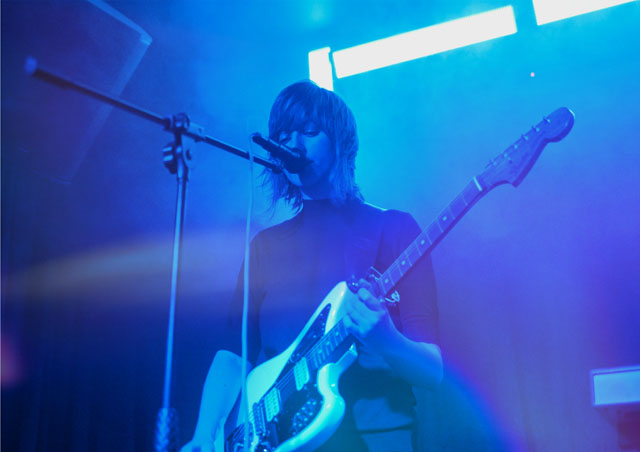 You performed at Oslo over the summer with Helen Marnie of Ladytron. How was it playing that show and what can people expect when they come to an Everything by Electricity performance?
Yulia – It's one of the biggest gigs we've done this year. I love what Helen does now and I'm a big fan of Ladytron so it's been great to be able to do that show. It was also the first gig where we've been able to test our own visuals on stage – we've built our own little light show and try to take it everywhere we play, it is fairly mobile and makes such a difference. Every venue has its own lighting and you never really know whether it would suit your live set or not so we've decided to take this part under control and programmed our own lighting which helped to transform our live gigs into more of an audio/visual experience.
Having already received support of BBC Introducing and more, will there be an EP forthcoming next year?
Yulia – Yes, I am working on a full length record but have a couple of more singles lined up already for early 2018.
http://everythingbyelectricity.com/
https://www.facebook.com/everythingbyelectricity
https://soundcloud.com/everythingbyelectricity
https://www.instagram.com/everythingbyelectricity/
https://twitter.com/everythingby