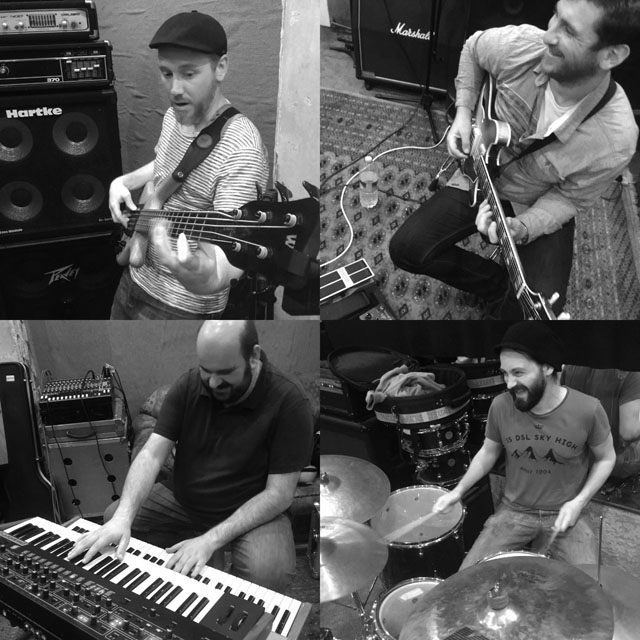 Word by Art Jefferson
Images courtesy of The Expansions
Throughout the UK the sound of jazz music has been an integral part of inspiring some of the country's most rooted and forward-thinking scenes. Whether it be DJs like Gilles Peterson and Chris Bangs laying down a foundation for the acid jazz movement in the late 80s that would go on to also encompass soul and Hip-Hop or the likes of 4Hero, Goldie and LTJ Bukem who fused jazz into drum and bass, charging with a Herbie Hancock aim of futurism, the music has flowed into various sub-genres even at times when it wasn't the most fashionable in its traditional state. The broken beat community would go on to use the music as a backbone for a universe leaping style of production dripping with sophistication with artists such as 4Hero, Bugs In The Attic, IG Culture and a slew of others meshing that which is complex yet grooving. With the current state of music being dominated by trap-oriented sonics and synth-piercing pop, South London's The Expansions are continuing to push the legacy of jazz and funk-stirred rhythms that are not only core but boundary pushing in the same breath.
Comprised of pianist Dave Koor, drummer Jonny Drop, guitarist James O'Keefe and bassist Matt Summerfield, each member has been paving lanes in music with separate projects including Koor's Deoke work as well as his Modified Man group with musician, artist and label co-owner Adam Scrimshire. Jonny Drop released his 'Sub Plot' LP back in 2016, not to mention has played live with The Gene Dudley Group among others. Matt Summerfield contributed bass on The Dustaphonics' Party Girl LP. James O'Keefe has been a key component of the Andrew Ashong live band spanning three years, with Ashong not only releasing two EPs but also having worked with the likes of Theo Parrish and Tony Allen.
Releasing their Lavender EP back in 2013, the record was welcomed with critical praises, championed by various taste makers throughout the music world. Combining Blaxploitation-powered funk with soul, jazz, Latin and more, the quartet's deep musical heritage shined intensely while providing quite the breath of fresh air to a somewhat inert mainstream machine at the time.
The Expansions' debut full-length Murmuration is a majestic offering of warming soul, lush jazz and funk executed with sheer mastery and more than anything, respect for the craft. Recorded in Southend, the band operated like seasoned vets, not only bringing a strong live feel to the LP but impressively recording much of the album in single takes. Venturing through an array of moods, the LP couldn't have been released at a more perfect time with the sound of jazz becoming more of interest to young artists in London, as well a growing audience craving the taste of organic musicianship opposed to a batch of VST plug-ins that have been repeatedly used in songs like no one's business. Murmuration is not only one of the highlight records of 2018 but is an inspiring piece of work which proves that there are still musicians aiming at making timeless material.
In 2013 you released your incredible EP Lavender. Whilst you have dropped a few singles between that time and 2017 including 'Breakthrough', what made you all decide to move forward with a full blown album this year? Was that always in the works?

Dave Koor – We've always had a full album on the cards, it's been a question of finding the time to get it all worked out! The Lavender EP was initially going to be released with just a couple of the tracks from it to form a 7", but after the response we had for Lavender itself, we knew we needed to press the whole thing. The album format suits the music too – historically it's been about albums such as Billy Cobham's Spectrum, Freddie Hubbard's Red Clay, and the majority of release from CTI and Kudu records that set the standard. An album should be a complete listening experience, and we were excited for the challenge.
Each one of you have quite the musical heritage, but for people who may not know, what brought you all together to form The Expansions?

Dave Koor – I'd known Matt for a few years already as he was involved in a local band full of friends of mine. When they lost their guitarist, James joined their band. James was family too, the cousin of a long time collaborator of mine Oliver Sudden. At the same time, I was promoting an event at Plan B in Brixton, and one of the acts we had down was Jonny's old band. We stayed in touch, DJing together and even playing in a Rock n Roll band together for a bit. All of us were after something new and exciting, and when Matt and James' band decided to quit working we seized the opportunity.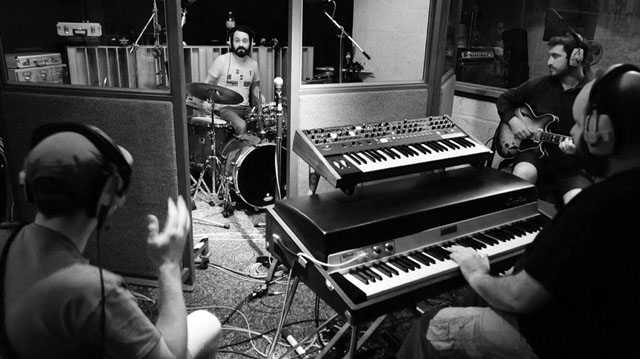 I read that you all mainly did single takes during the recording process of your new album Murmuration. How would you compare your approach with recording this LP to Lavender?
Dave Koor – The process itself was fairly similar for both projects – both the Lavender EP and the subsequent release, Aubergine's Escape, were recorded in a barn in deepest Suffolk on a makeshift setup, just us and our engineer Charlie. Being away from the city really helps you concentrate, and it was a valuable experience for all of us to be able to record almost at our own leisure – most of the takes from the first releases were tracked at 3 o'clock in the morning with a herd of cows hanging out next door. For the album, we wanted to recreate that feeling but knew we needed a better space to record in. We had all been to Big Noise Studio in Southend a few times with another project we were involved in, and owner Simon made us feel at home. He understood the sound we were after, and had the equipment to achieve it.
I can't stress enough how good this record is. The one thing that you really nailed with the new album is presenting listeners with a sort of live feel. Was that always the goal when you started working on Murmuration?

Dave Koor – Thanks! We knew we wanted it to be as live sounding as possible, we're a live band and knew that we had it in us to get the album down as live sounding as possible. It's hard to translate the energy you get on stage with a crowd in front of you to the studio, so we considered everything from what amps to use, how to mic everything and how we should all actually behave in the studio – we'd do a few takes, make sure we'd got one nailed and sounding good, and then hit record again to do an 'anything goes' take. Really push the energy. On some of them it worked, some of them it didn't! We overdubbed a few things – primarily a few solos and percussion tracks, but we wanted it to truly represent us and how you would hear it if you came to see us live.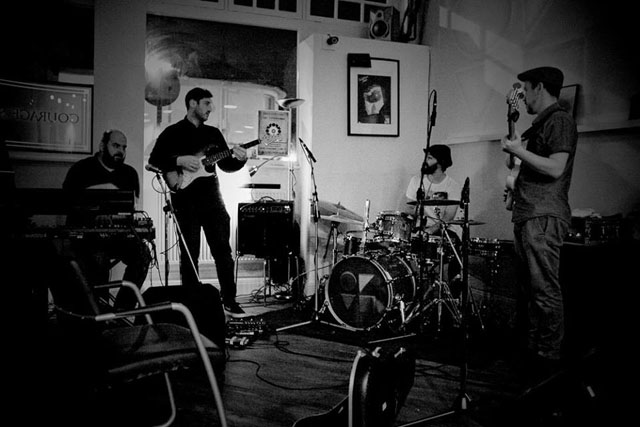 There has been a wave of young artists, specifically in South London revisiting the sounds of jazz. Whether it's acts like Cosmo Pyke or Oscar Jerome, it feels like a resurgence is happening. What are your thoughts on this current movement?

Dave Koor – I'm all for it, and so happy that there's a new and extremely talented group of younger people influenced by the sound but making it their own too. Take Joe Armon-Jones and Maxwell Owin for example, it's clearly Jazz but it has elements of gritty London music throughout it. Bands like Maisha, Nubya Garcia's projects, Vels Trio, Wu-Lu and Collocutor are taking the sound and making it theirs. It's an exciting time for Jazz in the UK, just a lot of the artists happen to be in South London.
Dave you have been involved in various projects throughout the years. Can you talk about your love of working with different groups, and also, does it keep you on your toes as a musician?
Dave Koor – Haha yeah I've played with a few people! I've been lucky to play with some incredible artists, with everyone requiring different considerations when it comes to instrumentation, tone and attitude. Touring with Myron and E, a Soul vocal duo from LA required a different approach to playing with someone like Hector Plimmer, an electronic artist from London. It's also a constant learning experience, and I find that I'm constantly checking myself to make sure I'm up to scratch. Most of the time I don't think I am, to be honest… I hope that's the typical artist self-doubt creeping in… but it means you're constantly trying to improve your skills. You can learn something from everyone!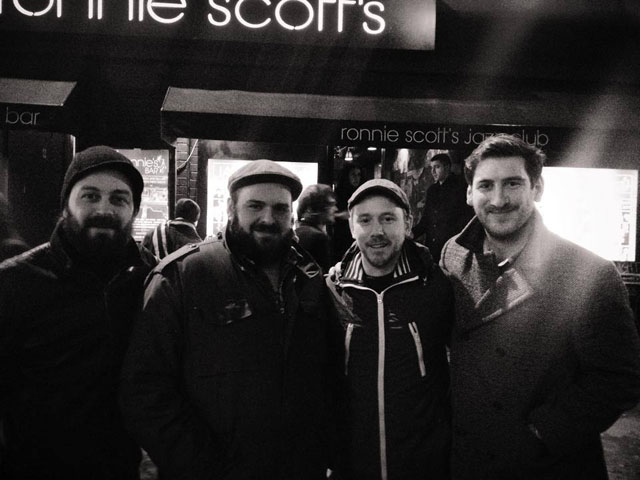 From the rare groove and acid jazz days to broken beat, in the UK the core sounds of jazz, funk and soul have helped to create really intricate, like-minded communities. Do you foresee that communal building happening again?

Dave Koor – I feel like it's already happening. There's a good energy in the London scene, and I hope it's the same elsewhere. Important hubs are being established, places like TRC, Church of Sound and Ghost Notes are really spearheading Jazz programming, everyone is trying to support everyone else by buying/playing/broadcasting peoples records, with stations like Balamii, Worldwide FM and NTS pushing boundaries and opening up people's minds to new music on a global scale. Technology has helped with this of course, but it now means having fans in far flung places able to access your music, live performances and other types of media at the push of a button. It's exciting.

Now that the album is complete, what is the rest of the year looking like for The Expansions?
Dave Koor – We have a few gigs booked in, watch this space! We will definitely be gigging as much as possible, and Jonny and I have some solo projects with releases scheduled so again, watch this space! We're all pretty much agreed that we want to start work on new music as soon as possible. We've all grown since we wrote the music for Murmuration, and now we need to express it!
https://www.facebook.com/expansionsmusic/
https://soundcloud.com/the-expansions
https://the-expansions.bandcamp.com/
http://albertsfavourites.com