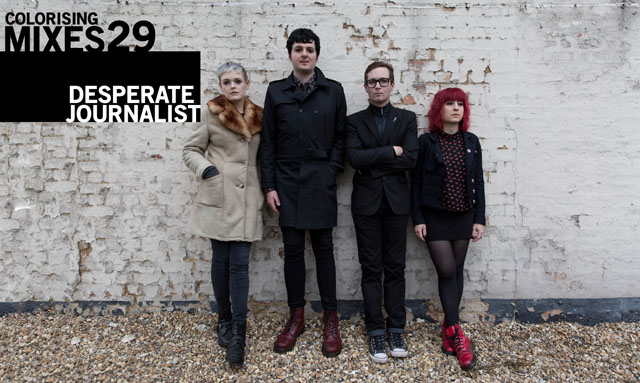 London, UK
Desperate Journalist represent all of the hearty goodness about the DIY scene of London. Blending the sounds of alternative, post-punk, gothic and more, the foursome comprised of singer Jo Bevan, guitarist Rob Hardy, bassist Simon Drowner and drummer Caz Hellbent, kicked in the door with their 2013 EP Christina. Following up with the singles 'Organ' and 2014's 'Happening', Desperate Journalist brought forth their incredible self-titled debut album in 2015. Encompassing a sound mountainous in size, praises for the album generated throughout the press around the world. Dropping their Good Luck EP the same year, they gave fans a slight taster in 2016 with their limited edition single 'Hollow'. With their forthcoming second album Grow Up landing on the 24th of March, 2017, the band recently unveiled the track 'Resolution', which will be featured on the new record. A lush slice of alt-rock, Desperate Journalist are giving fans something highly exciting to look forward to this year.
For ColoRising Mixes 29, Desperate Journalist have curated a glorious playlist consisting an eclectic selection featuring tracks by Angel Osen, Depeche Mode, Cocteau Twins and loads more. 2017 is already off to a magnificent start with this selection!
10 Despy J Classix Tracklist:
Angel Olsen – Sister
R.E.M. Pretty – Persuasion
Ezra Furman – Haunted Head
The Cure – Disintegration
Mansun – Wide Open Space
McCarthy – Red Sleeping Beauty
Depeche Mode – Enjoy The Silence
The Parachute Men – If I Could Wear Your Jacket?
Cocteau Twins – In Our Angelhood
Catherine Wheel – Crank
Desperate Journalist's 'Resolution' is out 24th February via Fierce Panda.

Desperate Journalist Tour Dates:
Saturday 28th January – Derby, Hairy Dog
Saturday 11th February – Stowmarket, John Peel Centre
Saturday 25th February – Manchester, The Live Room
Wednesday 29th March – Bristol, Louisiana
Thursday 30th March – Sheffield, Leadmill
Friday 31st March – Glasgow, Sleazys
Saturday 1st April – Birmingham, Sunflower Lounge
Thursday 6th April – London, Scala
Saturday 8th April – Mainz, TBA
Sunday 9th April – Freiburg, Slow Club
Tuesday 11th April – Stuttgart, Goldmarks
Wednesday 12th April – Cologne, Blue Shell
Thursday 13th April – Hamburg, Gruner Jager
Friday 14th April – Leipzig, Ilses Erika
Saturday 15th April – Bremen, Lagerhaus
https://www.facebook.com/DesperateJournalist
https://soundcloud.com/desperate-journalist
https://twitter.com/despjournalist
Desperate Journalist YouTube Channel
https://desperatejournalist.bandcamp.com/