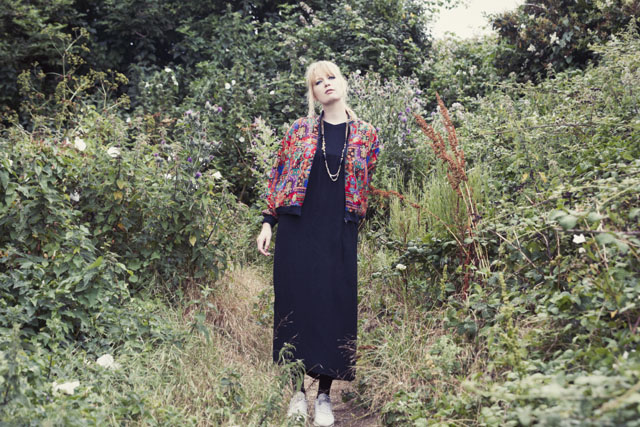 Words by Art Jefferson
Photography by Ingrid Pop, Janne Amalie Svit and courtesy of Stina Stjern
Stina Stjern defines the very idea of versatility. The Norwegian-born singer and musician creates cinematic and dreamy soundscapes that is lifted with imaginative songwriting all carried through her tender vocals.
Whilst Stina Stjern's music can be described as an intersection of pop and indie, her rich background includes her classically trained jazz education, her tenure in the experimental Norwegian rock band Quintrophenia, as well as being a member of the all-female punk meets riot rock band Supervixen. Having pushed boundaries with both groups, Stjern' amalgamation of sound as solo artist was born after a move to Copenhagen where she recorded her self-titled EP, a blend of intricate pop, folk and rock. Yet like a true explorer who understands limitless possibilities, Stjern packed her bags yet again, relocating to Brooklyn, NY. The move resulted in her writing the songs to her 2011 debut album Days Like Waves. The LP reflected her collection of musical knowledge along her journey, now tailored to her specific vision.
Making a trek back to Scandinavia, Stina Stjern further continued a mission of exploration, spending time Nuuk, Greenland. From there the track 'Nuussuaq' was born, which would ultimately be the leading single to her new album Kap Herschell. Working with producer Kyrre Laastad, the record also draws parallels to her grandfather's move to Greenland to work as a hunter in his early twenties where he lived in a small cabin called Kap Herschell. Musically the LP is brilliantly sewn together with the sounds of shoegaze, dreampop, smokey indie and psychedelic. Undoubtedly her best work yet, Kap Herschell is truly the soundtrack to discovery.
Your father played in a band back in Norway. What was it like growing up in a musical household and how did those childhood experiences shape you as an artist today?
Stina Stjern – Growing up in a musical home has had a huge impact on me. I was 2 years old when my little sister was born. Then I started hanging out with my dad and he brought me to band practices, sound checks and concerts. I was very fascinated and when I was 6 I had saved up some money to buy my first (red) microphone. Our family would go to concerts to see local acts, but we also went to festivals. By the time I was 10 I dag seen both Genesis and Bob Dylan live.
I think these experiences has shaped me as a person in a way where music is a big part of every aspect of my life. It is just as natural to put on a record in the morning as it is making coffee. Then again it is very natural for me to express myself through music.
With your first band Quintrophenia, you all were approaching the rock circuit with a different sound than the standard. I'm thinking of your album Matter Of The Heart where there were elements of jazz, pop melodies and more. It was almost like a musical fun fair. Can you talk about your experience with Quintrophenia?
Stina Stjern – Hehe…Quintrophenia started as a band in 1996. We were a bunch of girls who wanted to form a band to perform at the local Norwegian Youth Festival of Art (UKM). We were in our early teens and we loved Jethro Tull. We had a friend who played the flute and she was just amazing at playing like Ian Anderson.
We started off by playing an impressive cover of «Bourée». I played the guitar at the time. We got to play a lot after our debut and I decided that I wanted to become a musician.
We experimented a lot and made some crazy/weird music… I still slightly blush when I think about certain concerts we have played in the 90's, but the feeling of never compromising and defining our own music has been important to me ever since.
As we grew older we also discovered jazz and improvised music and a few of us moved to Trondheim to study. At that time we had some new members and we just had a lot of fun creating music and experimenting, but now the songs were more pop oriented than before.
We only released one record, due to all of the band members busy schedule. Breaking up the band was kind of breaking up with your first big love. Painful but necessary in order to grow.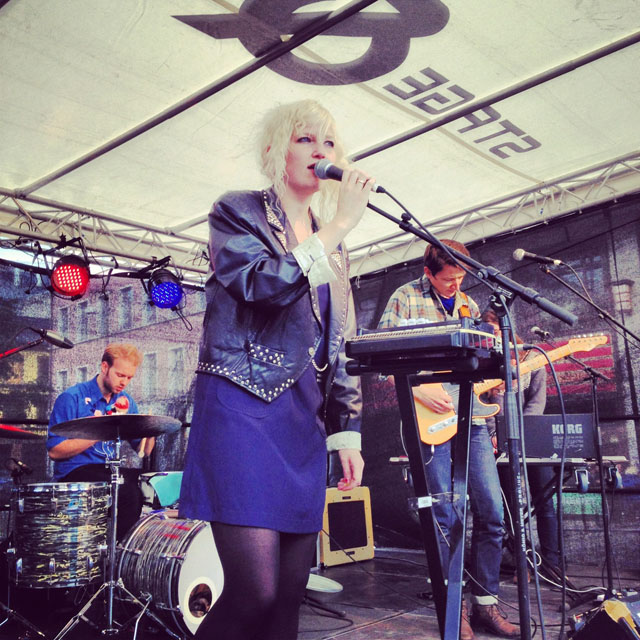 You have always had this interesting dynamic between jazz and rock. Having studied jazz at the Music Conservatory, you still played in bands that were rock oriented. Talk about that intermix and how you were able to simultaneously weave between both worlds?
Stina Stjern – When I moved to Trondheim in year 2000, I moved there to focus on my jazz singing and to get into the Jazz Conservatory at NTNU. One night when I was out, a few girls came over and asked me if I wanted to join their rock band. I thought they seemed cool and thought "Yes, why not?". We used to practice every evening, and the band became Supervixen. In order to hear my self through the heavy drums and the fuzz guitars I had to develop a way of screaming in a high pitched voice, and I soon discovered that singing like Bon Scott was my kind of thing.
In the daytime I practiced and studied Jazz and when I was not doing any of those things I would practice or play shows with Quintrophenia. It was busy times!
I think that having the opportunity to express myself in all these different ways has been a way to express myself as a whole human being.
With Supervixen's Diamond Dust, you all were coming with heavy alternative rhythms with a punk rock sort of spirit. Did you have aims to shake up the scene?
Stina Stjern – We were 4 women in our 20's who really loved rock music and we had such a great time practicing every day and touring both Norway and Europe. We were hardworking, both with the band, and with our different studies. We wanted to play some good, hard rock music. And we practiced a lot to become really good at channeling all our energy into the music and to become a good rock band. I really miss getting all of my frustrations out of my system in a 30 minute rock show.
I feel privileged when i think back. Playing in a great band and hanging out with my best friends in practice spaces, backstages and stages all over Norway and Europe. It was really a good time.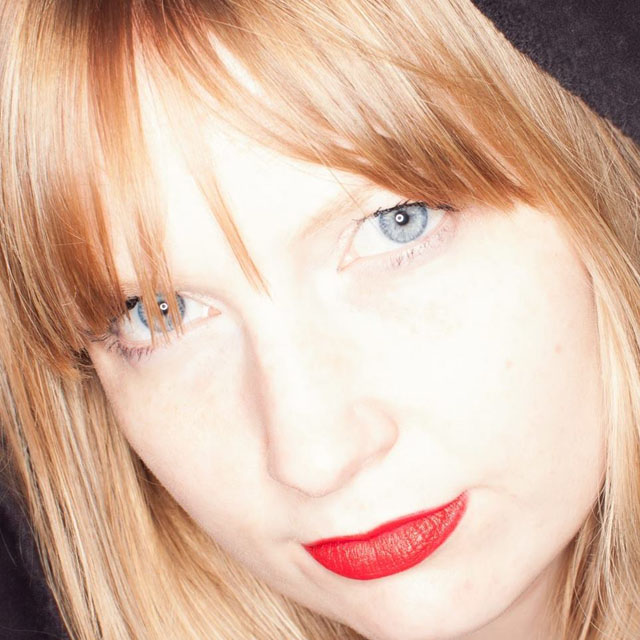 You lived in Brooklyn for a stint. How did that stay in New York City contribute to your current approach to writing and recording?
Stina Stjern – I felt very much at home in New York. I liked being anonymous and having the time to focus on my own small processes in life. In Brooklyn this was possible and I was able to concentrate on writing for hours a day. The stay was important as starting point for the Stina Stjern project. Where I had earlier divided all my musical influences and expressions into Supervixen, Quintrophenia and Jazz studies, Stina Stjern became the musical universe where I could put everything relevant in the same place. In New York I took the first steps trying to collect what I wanted to develop further under the name of Stina Stjern.
On your new album Kap Herschell, the sound is beautiful and dreamy. While you tap into themes of loneliness and purpose, it also feels like the reaching of peace. Can you go into your mental and creative process with the new LP?
Stina Stjern – The album is kind of a musical dialogue between my young grandfather and a younger version of me. My grandfather had worked as a hunter in northeast Greenland when he was in his mid 20's. He lived alone for a year in a cabin called Kap Herschell and had to manage on his own in the cold and harsh winter. He had to manage polar bear attacks and taking care of his dogs giving birth in -40 degrees celsius. I wouldn't been able to survive in such conditions! When I was about the same age I travelled to NYC. I felt like hiding from my everyday life at home but came to meet myself more clearly than ever before.
I was obsessed with stories of explorers when I wrote this record. I used to read everything I could find on Fridtjof Nansen, Roald Amundsen, Knut Rasmussen and Hjalmar Johansen.
The album is kind of a tribute to the explorer. The ones who needs to travel out in the world in order to travel inwards. And then here are some warm nods in the direction of the broken hearts who could not compete with the passion of an explorers next horizon.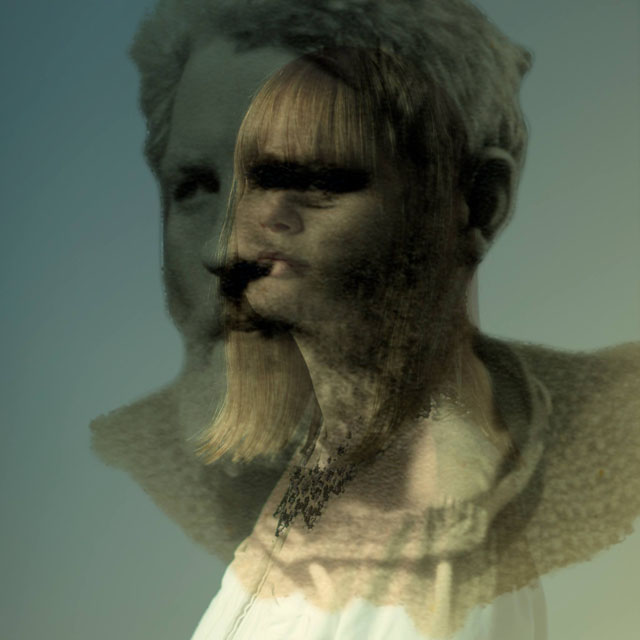 I know that your Grandfather's past travels helped to inspire the direction of the record. When you compare your journey with his, what did you discover in terms of your own identity?
Stina Stjern – I always thought we did kind of the same, my grandfather and I. But we chose different paths. He hid where there were no one else, I hid among millions of people. I think we shared the same curious and adventurous mind. But I think we have found inner peace in different places: Him in meeting nature, me in meeting culture and art.
The album indeed feels like a soundtrack to exploration. What do you want listeners to take away when listening to the record?
Stina Stjern – I hope the record will have a life of its own and that it will speak to the listener in ways I could never have expected.
https://www.stinastjern.com/
https://www.facebook.com/stinastjern/
https://soundcloud.com/stinastjern
https://stinastjern.bandcamp.com/