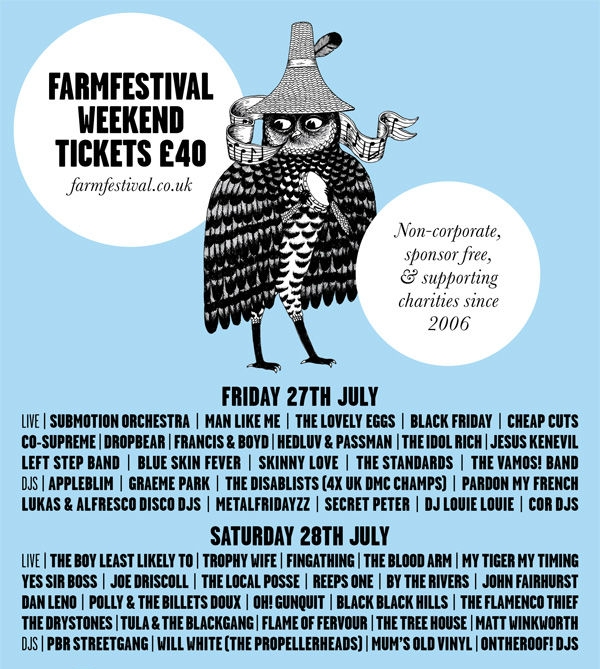 Farmfestival have released their full list of acts for Friday and Saturday for the very first time! So you don't miss out on their most accomplished Friday night line up to date. You can now rest assured in the knowledge you know who is playing and when.
And just how will they cram in all this fruitful jubilation?! Well, the Farmfestival gates will be opening at 12 noon on the Friday, meaning a full afternoon of enjoyment awaits. So be sure to book the whole day off and get down early doors, or the cider will get warm!
£40 weekend tickets available now
Line Up Additions:
Farmfestival is honoured to announce Hacienda DJ legend Graeme Park will be joining them, an original smiley face protagonist! He'll be headlining the Civilisation of The Rough (COR) tent, who are bringing their self styled 'secret underground disco soiree' to the festival for the first time.
Saturday's mainstage will host the charmingly infectious Polly and the Billets Doux, who'll be bringing their new EP and acclaimed live set for the afternoon.
Also on Saturday, the festival are delighted to have the 7 piece antics of Francis & Boyd joining them in The Den, for a late night hoedown.
From the editor:
"An intimate little independent boutique festival that is a relative secret among most festival-goers, despite the staggeringly bargains £40 entry fee, which includes camping and parking. Plus, aside from the coolly cultish line-up, there will be an assault course, magic shows, crazy golf and more for the kids, plus a hat competition, the winner of which receives free tickets to next year's festival"
Timeout Festival Guide 2012
In 2006, a small group of friends native to Somerset made the decision to host an intimate, cost-effective festival for their friends as an alternative to the events dominating the English summer. Year after year, loyal followers and newbies alike make their way down to its countryside home at Gilcombe Farm, Bruton, for the promise of wallet-friendly good times and acts on the cusp of stardom.
The festival remains adamantly sponsor-free, the lo-fi DIY aesthetic combining with the genre busting music policy to create the unique atmosphere. Previously quoted as one of the UK's best kept festival secrets (Dj Vadim / Venue Mag), the cat is slowly being let out of the bag.
With profits donated to charities Practical Action, Somerset and Dorset Air Ambulance and The British Stammering Association, you can't say fairer than that. Oh, and don't forget to wear a hat, it's compulsory (and the best hats gets free tickets to next year's festival!).
Weekend Ticket £40 HERE
Friday 27th – Saturday 28th July 2012
Gilcombe Farm, Bruton, Somerset, UK